Neptune Festival princesses grace the halls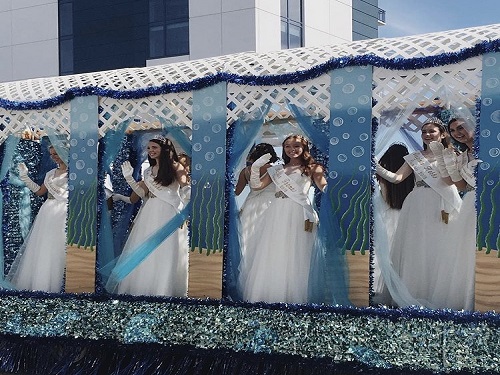 CHS juniors Katherine Harriman, Maura Nacey, and Deme Malbon were chosen as Virginia Beach Neptune Festival Princesses in November to represent the city as ambassadors to spread goodwill and cheer at several charity events throughout the year.
Virginia Beach Neptune Princesses are ambassadors for both the city and the annual Neptune Festival in September. The princesses are chosen from a group of 35 applicants throughout the city. They then participate in their first round open competition in November of the applicant's junior year.
Ultimately, Neptune Princess applicants must participate in three rounds of the application process in order to become a part of the royal court. Steps include the following:
1. Applicants must fill out and submitting a twelve page application
2.  Preliminary interview for chosen applicants in front of seven judges
3.  Final interview for chosen applicants where judges ask more rigorous questions in order to ensure the applicant is well-suited to be a princess.
At the end of the process, a total of 10 princesses were chosen from throughout the Virginia Beach District for this years royal court.
"Being selected as a Neptune Princess for the 46th Royal Court, was an accomplishment not taken slightly. It has been a dream of mine since I was a little girl. Seeing the photos of my mother and cousins in their beautiful ball gowns, struck a light in me to strive to be in their shoes one day. I am extremely excited to see what the year ahead holds with the other 9 princesses and to showcase myself as an ambassador of the city," Malbon said.  
The Neptune Festival itself is held each September at the Virginia Beach Oceanfront with the purpose of bringing our community together, as a send off to the end of summer.
On the day of the festival, all the princesses dress up in ball gowns and tiaras in preparation to travel down the boardwalk greeting the immense crowds. They also attend a gala, held that same day, where they have the opportunity to connect with various professionals in the Hampton Roads area.
"I'm so excited to be a part of this experience and can't wait to become more involved with the community in VB," Nacey said.
About the Contributor
Lily Moen, Student Life Editor
Senior Journalism II student