Rivalry week brings challenge for students, win meal at Moe's Restaurant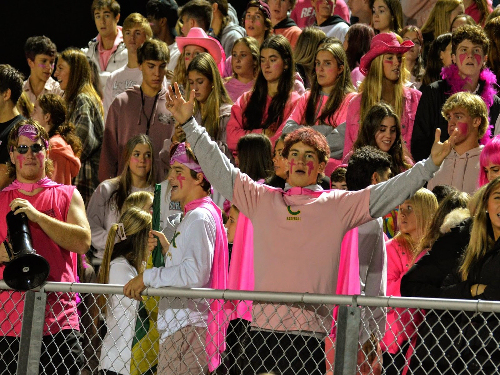 Last Friday kicked off the festivities for the big rival football game that featured the CHS Falcons vs. the First Colonial Patriots. In an effort to boost attendance, the Athletic Booster Club planned a sponsored event at Moe's Southwest Grill on First Colonial Road two days before the game.
At Moe's, falcon students had a chance to enter their name into a contest to kick a field goal from the 20-yard line during halftime of the final home game on Friday, October 21. 
During halftime, the raffle picked four winners to try and win free burritos for a year by making a kick. All four participants failed miserably to make the field goal and no one was awarded the incentive.
Even a security guard, Mr. Ellis, completely botched his kick. Maybe next year someone will win free burritos for a whole year.
This fundraiser gave students a chance to compete against FCHS to raise more money to earn an extra $250. Twenty percent of sales that night went to the Falcons.
"It was great to step foot on the field again after many years and I was a lineman, so I would have never made that kick, but I think it was a great opportunity for the students to earn free food." Mr. Ellis said.
Leave a Comment
About the Contributor
Braden Lyons, Sports Editor
Sophomore Journalism II student

I like to play football and baseball outside of school, and also be with friends. I joined Journalism because I'm interested...