Annual CHKD Love Run offers opportunities, event registration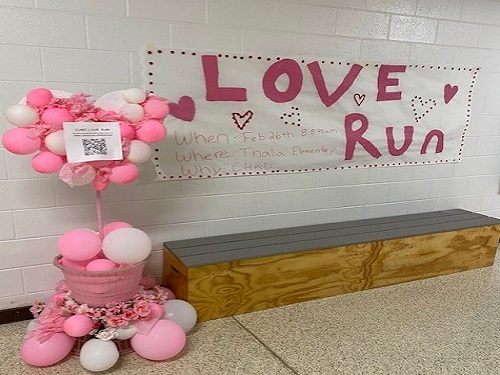 CHS Falcon SCA and Princess Anne High School (PAHS) students will once again combine efforts to hold the 18th consecutive Children's Hospital of the King's Daughters (CHKD) Love Run. This year's run will again take place at Thalia Elementary School in person on Saturday, Feb. 26, but once again, due to COVID protocols, the race will also be offered virtually.
SCA sponsor Mrs. Shumate has been the school's liaison and co-coordinator of the annual CHKD Love Run for many years. She puts in the time and effort necessary to become bigger and better each year; she values the work of the CHKD hospital because of her own, personal experience.
"The Love Run is one of my favorite annual events. It is only held one time a year and it provides two schools and their surrounding communities the opportunity to come together and help one another make a difference.  The race is open to everyone, competitive and non-competitive racers, walkers, pets, and kids of all ages," Shumate said. "The day is filled with positive energy and a sea of smiles. The Love Run is the perfect way to honor those who have been blessed to be treated at CHKD and give back to families who are in need of treatment. CHKD is a non-profit hospital that does not turn away any patient based off financial need. It's where my son spent every day of his short life. My baby, Jack, was treated with love every second of every day at CHKD and helping to direct the Love Run every year is my way of honoring his life."
Clubs and societies within the school, as well those involved at PAHS, assist in raising money for CHKD by donating "grab and go" snacks and drinks for the race.  The involvement gives those who cannot make the race or feel more comfortable offering a donation options to participate.
Student co-chairs presiding over this year's race are seniors Christina San-Marina and Lizzy Goldstein. This will be San-Marina's second time as chair, even though last year's race was entirely virtual.
"I am so excited to see everyone come out for the race. I am so grateful for everything CHKD has done for my friends who have spent time in the hospital, as well as for children and their families in the community. The energy at the race is undeniable," Goldstein said.
Information to sign up for any and all events can be found at the 2022 Love Run Website, as well as the Cox SCA Instagram. There is also a scannable QR code located on the flyer attached to this submission. The goal this year is collect $10,000. All donations will be given directly to CHKD.
Leave a Comment
About the Contributor
Christina San-Marina
Senior Journalism II student