Falcon wrestling recognizes, honors seniors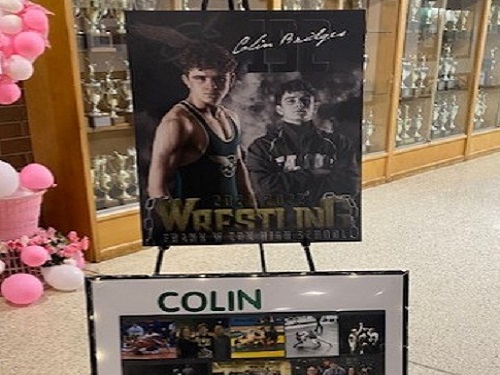 Falcon wrestling has arguably been one of the most dominant high school programs in the state, having won numerous state titles and individual state winners by weight class since the school was founded in 1961.
What Happened: The Falcons hosted the Patriots of First Colonial last week. CHS celebrated their graduating seniors in a ceremony before the match. Senior night events, as well as the "white-out" rivalry match against First Colonial, made for a memorable event.
Both teams hold a high rank in the Hampton Roads area. The Falcons are ranked #4 and the Patriots ranked #8  [respectively].
Key player(s): The team recognized seniors Brayden Cahill, Eugene Peterson, Vincent Packer, Colin Bridges, and Anthony Pardo for their contributions to the team.
The Falcons dominated the Patriots with a 42-24 win overall.
"These seniors are such great leaders and role models for our team. They make us all want to push ourselves and do better," junior wrestler Reed Rader said.
Up next: The Falcons have completed the regular season and went on to win the regional competition as well.  The state championship matches will be held Friday, Feb. 18 – Saturday, Feb. 19, at the Virginia Beach Sportsplex.
HIGHLIGHTS:  Falcons also dominated several categories at the Virginia Duals competition. Senior Colin Bridges was named Most Outstanding wrestler in the Black and Blue Division, while juniors Carter Shupert and Tyler Haley, senior Colin Bridges, junior Parker Tillery, and sophomore Graydon Howard all finished undefeated with a combined score of 19-0.
Leave a Comment
About the Contributor
Amelia Keck, Editor-in-Chief
Senior Journalism III student

In school, I am the Student Council Secretary, Chair of the Community Relations Committee, and Publicity Officer for the...