Early successes show for year-around rowing team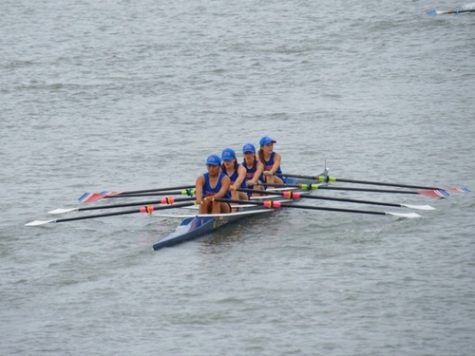 Falcon Crew has been working towards success since the summer and will continue into the springtime. Coaches Melissa Kuch, Michelle Buchanan, and Zach Popp play a vital role in the team's success with support from sponsor Mr. Johnson, an English teacher. The team is led by senior captains Alex Ward and Ava Northern who both have been rowing since their freshman year.
What happened: The Falcons have placed in the top three in many of their respective events in the latest races at the Norfolk Botanical Gardens and other locations. The team has a weekly training routine that consists of land practices on Tuesdays and Thursdays as well as water practices on Monday, Wednesday, and Friday. The team consists of around forty rowers with different levels: varsity, junior varsity, and novices.
Key Players: The upperclassmen carry the team to success including junior Taylor Kopaskey who leads the team with the fastest time in the open 2K race. Seniors Morgan Harvey and Brett Michal and junior Gabby Gonzalez add to the team's victories as well.
They said it: "Overall, crew is [having a very successful season]. Everyone understands the importance of our races and practices. Some of our goals include making it to states and meeting our personal goals we made at the beginning of the season," Kopaskey said.
Key moment(s): In the last two regattas in October, the women's and men's quad both placed in the top three for the four and mixed eight at their regattas.
Up next: The next regatta is on Sunday, October 20, at Lakewood Park in Norfolk. The first race begins at 9 a.m.
Leave a Comment
About the Contributor
Bailey Deaver, Managing Editor
Senior Journalism III student