Lacrosse teams celebrate senior night win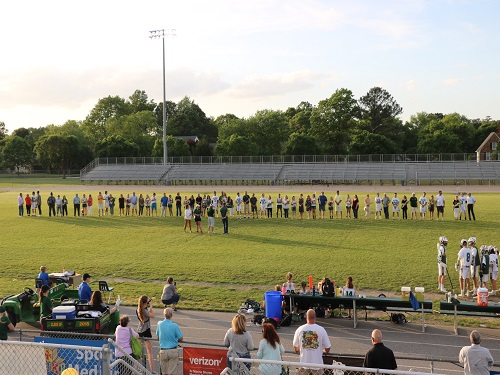 Both Falcon Lacrosse teams finished their regular season this week with a victory over rival First Colonial High School (FC).  The boy's team played a dominant game, keeping the play in the offensive half.  The Lady Falcons also won while demonstrating strong teamwork throughout the game.
What happened: The boys and girls lacrosse teams defeated FC last Friday night, May 3, at home.  The Falcons held strong and played offense for the majority of the game. Along with the win, the team held their senior night celebration in between the games. 
BOYS: COX- 18        FC-1  
GIRLS: COX- 6         FC- 3
Key Players: Seniors Jason Boynewicz, Danny Bertka, and Carter Schank lead the boys to a crushing win over FC. The Falcons' front was strong, keeping play in the offensive half , scoring a total of 18 goals.
Lady Falcons junior Deme Malbon and freshman Sam Maiden lead the girls.
They said it: "We won, and it was a great team effort.  We're starting our playoff run now with a lot of energy and morale," Boynewicz said.
Key moment: Senior players were joined by their parents on the game field for an emotional senior night celebration.
Up next: Lacrosse teams begin postseason play –  The Hampton Road Lacrosse (HRLAX) championship will be held on Friday, May 17, at Norfolk Christian from 8-10 p.m.
About the Contributors
Bailey Deaver, Managing Editor
Senior Journalism III student


Sydney Doyon, Editor-in-Chief
Senior Journalism III student