Falcon boys basketball defeats rival F.C.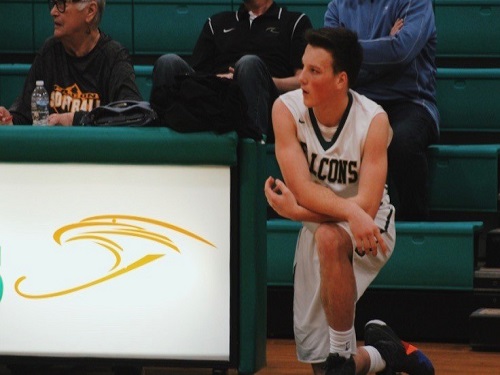 What Happened: The boys varsity basketball team took the court against longtime rival, the First Colonial (FC) Patriots away last Friday night. The Falcons trailed the Patriots during much of the first half, by half time, though, the Falcons contested the Patriots with a score of 22-20. The Falcons expanded their lead to 39-26 in the third quarter, finishing strong in the second half, scoring 15 points in the 4th quarter. This highly anticipated match up ended with a Falcon win and a grand total of 54 points.
COX – 54 FC – 48 
Key Player: Senior Kavon James led the Falcons, scoring a total of 24 points and hitting six 3-point shots.
They Said it: "As a team, we knew that we were playing out of character after going down in the first quarter at 16-0. In the second half, we were focused on running plays to get better and achieving more open shots. We knew that the shots would start falling in," senior South Trimble said.
Key Moment: In the third quarter, the Falcons took the lead after a seven minute scoring run that turned the momentum in their favor.  With support from seniors Kavon James, Tayvion Robinson, and Jaie Redd, Falcons took the advantage.
Up Next: The Falcons will face the Ocean Lakes Dolphins away on Tuesday, Jan. 15, at 7 p.m.