Falcon boys basketball, defeats PA Cavaliers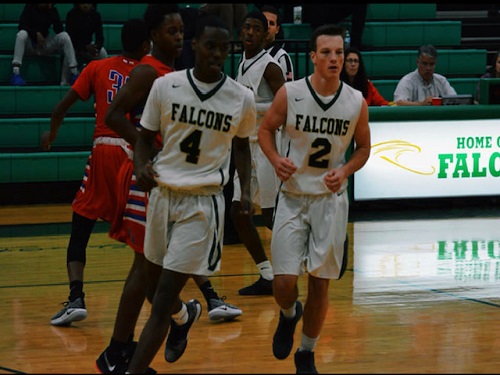 What Happened: The Falcons varsity basketball team took the court against the Princess Anne Cavaliers (PA) at home on Tuesday night. The Falcons hold a 2-2 record to date, while PA also stands with a 2-2 record. The game went back and forth throughout the game. As both team's scores rose, the Falcons made many in-game adjustments. The game came to an end in a tie, forcing the teams to move to a five minute overtime (OT) period. Even though both teams fought hard, a second tie after the first OT period brought yet another OT. The Falcons scored 25 points in both OTs, leading the team to a win over the Cavaliers.
COX – 81 PA – 76
Key Player: Senior Tayvion Robinson was on top of the leader board, scoring a total of 22 points.
They Said It: "This was our bounce back game coming off a tough loss," senior captain Kavon James said.
Key Moment: Senior Kavon James scored 11 points within both OT periods. 
Up Next: The Falcons will face off against the Landstown Eagles on Tuesday, Dec. 18, at home at 7 p.m.
Leave a Comment
About the Contributors
Isaiah Franqui, Sports Editor
Senior Journalism II student
Audra Chaffinch, Editor-in-Chief
Senior Journalism III student