WAVY-TV 10 personalities explain news production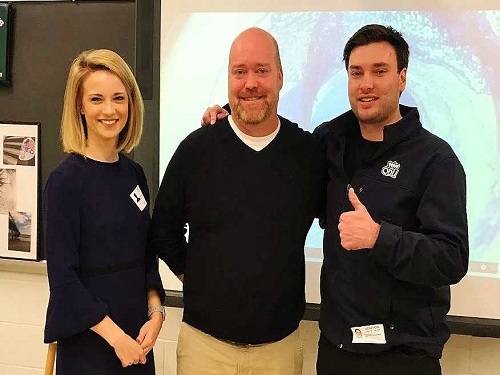 WAVY-TV10 meteorologist Casey Lehecka and production operator/director and 2012 alumnus Stephen Crocker visited Eric Bodenstein's Media Studies class last week to discuss the inner workings of a TV news operation.
Both Lehecka and Crocker explained that forecasting and producing news is not as easy as it may look, explaining that each day they are responsible for studying forecast models, writing scripts, and creating their own graphics for each broadcast.
Crocker gave students a peek behind the camera and discussed his production responsibilities to prepare for and during a live news program, while students were given the opportunity to ask questions about what they don't see on air.  And, as Bodenstein's former student, he was excited to come speak to a class in which he was once a student.
"When I took Media Studies with Mr. Bodenstein, WAVY's Chief Photographer Jeff Myers came and spoke to the class.  I don't have nearly the experience Jeff has to pass on, but it is still very humbling to be asked back.  I think it's beneficial for the students to see people like Casey and me because we aren't too far removed from where they are in their lives now."
Lehecka joined WAVY TV10 as only last month after starting her career at WJAC in Johnstown, PA., noting that the biggest difference in Hampton Roads so far is how residents react to and deal with inclement weather, particularly snow.
"It's crazy to me that an inch of snow can shut down this whole area", Lehecka said. "Where I'm from, you can get a foot of snow and still expect to go to school that day."