Falcon football gears up to tackle rival F.C.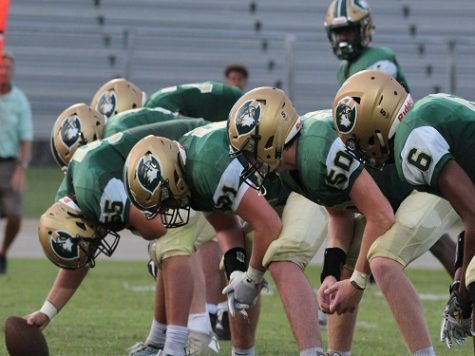 The Falcon football team will take on long time rival, the First Colonial (F.C.) Patriots on Friday, Sept. 20, at home in one of the most anticipated games of the year. The 'Nest' is sure to be packed as students and parents flock to witness the Falcons triumph against the Patriots.
Key players: The team is led by seniors Nathan Unger, Connor Toben, and Kendall Sprigins, along with junior captain Nate Evans. Each captain plays a vital role in guiding their team to success. Spriggins is versatile, playing wherever he is needed on the field. And, no matter where he plays, Spriggins will make an impact. Toben and Unger are not only forces to be reckoned with on defense, but both lead the team in overall tackles so far this season.
They said it: "The team has built positive momentum with back to back wins. We are ready and pumped to play our rival at home, and it's always an exciting game with great energy and lots of support," Unger said.
Key moments: Last Friday, the team defeated the Marlins of Bayside High School in a whopping 20 – 7 victory. One of the most exciting moments was junior Isi Etute's interception that he led into the end zone for a Falcon touchdown. 
Up next: The Falcons will take on F.C. at home at 7 p.m. Friday, September 20.
Leave a Comment
About the Contributors
Caitlin Sullivan, Editor-In-Chief
Senior Journalism III student

I'm heading on the Pre-Law track in my college future.
Marina Scherrer, Sports Editor
Senior Journalism II student
Madison Warren, Staff Photographer
Junior Journalism I Student