Leadership Workshop returns to face-to-face,Triple R Ranch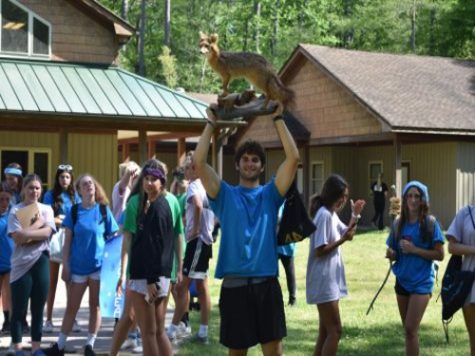 Leadership Workshop 2022 photos
Leadership Workshop returned to Triple R Ranch after two years of chaos, event cancelations, and relocations due to the Covid-19 pandemic.
Leadership Workshop is part of the school's "tradition". In fact, the first Leadership Workshop was held in 1967 at Pocahontas State Park. Since students and faculty have kept the tradition alive. This year, the program was sponsored by Mrs. Nardelli and Mr. Homesly and directed by seniors Kaylin Morse and Hunter Waltz. 
The overall purpose, or focus, of the Leadership Workshop, is to help students learn leadership skills and build relationships with their peers while attending a fun, unforgettable weekend.
Generally, the workshop's staff spends many months preparing for the event and are generally pleased with the outcome each year.  
"Leadership Workshop helped me step out of my comfort zone and improve my public speaking skills. Watching every delegate come out of their shell, as seen through the linked photos, made the whole weekend an unforgettable experience," sophomore Dominic Canter said.
Leadership Workshop is one of the only student led initiatives at the school. This dynamic allows staff members to truly be leaders while planning an entire weekend for delegates. 
"I was in many clubs throughout my time at Cox, but none compared to Leadership Workshop. Freshman year I started off as a delegate, junior year I was on staff, and senior year I was a director. The experience came full circle and I loved every second of it," senior Hunter Waltz said.
Leave a Comment
About the Contributors
Amelia Keck, Editor-in-Chief
Senior Journalism III student

In school, I am the Student Council Secretary, Chair of the Community Relations Committee, and Publicity Officer for the...
Mia Michaud
Junior Journalism II student
Elyse Unger, Editor-in-Chief
Senior Journalism III student

I write about a variety of topics, but I most enjoy making videos and reviews for local businesses in Virginia Beach....