Virginia Beach Aquarium hosts prom, Class of 2022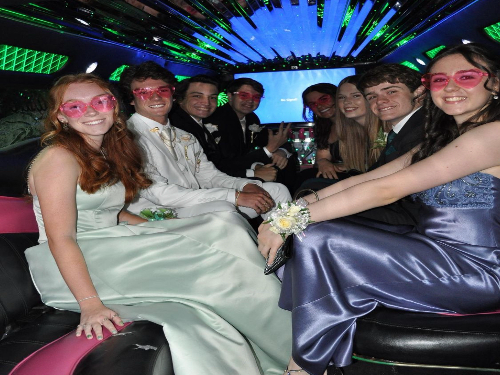 The Class of 2022 made it their mission to create an incredible prom, themed "Under the Sea", even subtracting a few years without the ability to fundraise. So, members decided on more creative ideas to earn money quickly in order to hold the first face-to-face prom in two years.
"We got super creative with our fundraising ideas; we were also happy that we were able to start some new traditions here in the process," senior class president Christina San Marina said. "We made it our mission as seniors to give students, who have missed out and sacrificed so much over the past two years, an incredible experience."
Fundraisers, such as painting senior parking spaces and "Cash-o-la" nights at some favorite local restaurants and hot spots helped make the evening more special for the senior class.
Along with several other high schools in the city, the Class of 2022 held their prom at the Virginia Beach Aquarium & Marine Science Center on General Booth Boulevard, which would seemingly be an unconventional venue to hold such an event. However, the Falcon Class of 2022 made it work, 'under the sea' and "posted up" on Saturday, June 11, just a week before graduation.
According to co-class sponsor Ms. Palalay, she hopes the senior class knows how proud she is of them and is adamant that the leaders and other students in the Class of 2022 did the absolute best job possible to fundraise and create their own end of the year celebrations.
Leave a Comment
About the Contributor
Amelia Keck, Editor-in-Chief
Senior Journalism III student

In school, I am the Student Council Secretary, Chair of the Community Relations Committee, and Publicity Officer for the...