Crew team plans to start season strong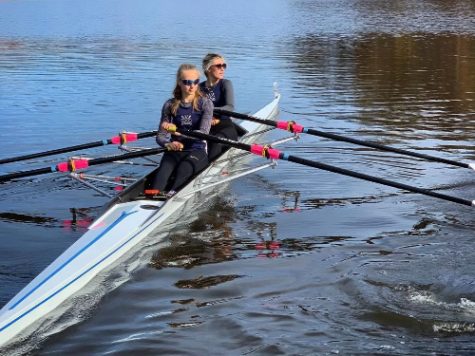 Crew is considered a "club" sport at the school, rather than a Virginia High School League (VHSL) sanctioned sport, which simply means that it is not held to the same rules and policies as the sports that play under VHSL rules.
Thus, the teams, both boys and girls, are made up of Falcons and the First Colonial (FC) rowers, as well as a few rowers from Norfolk Academy. Among the many student-athletes that participate on the Crew team, there are two who stand out.
The first is Falcon senior Bella Peycelon, who recently committed to Old Dominion University where she will row at the Division I level. Peycelon is known for her strong leadership, which sets the tone for the team.
The second is sophomore Mathilde Lyngholm. She brings her experience to the team as a member of the Danish Youth National Team for rowing.
The pair competed in the Eastern Virginia Scholastic Rowing Association (EVSRA) season opener last weekend and placed first in their event together. In addition to Lyngholm and Pecylon, junior Will Videll placed first in his junior varsity event.
"It is essential for us to build as a team so that we can be faster and stronger together. This sport is very demanding both physically and mentally so our fitness is key,"  sophomore rower Christine Powers said.
The teams are continuously working in and out of the water to improve, but they could not do this without their coaches to support them.
According to the team, the coaches bring a high level of experience to the team; coaches Melissa Kutch, Jacob Davis, and Kate Hudson bring much knowledge of the sport to help the young rowers. Kutch won gold at the U.S. Rowing National Championship in 2002 and Hudson has had continuous success at the high school level, leading her teams to several state competitions. This coaching slate forces the rowers to be the best versions of themselves in every practice and competition.
The team's next competition, the EVSRA Spring Fling Regatta, takes place on Saturday, April 2.
Leave a Comment
About the Contributor
Kate Hobbs
Sophomore Journalism II student