Signing Day, one student-athlete at a time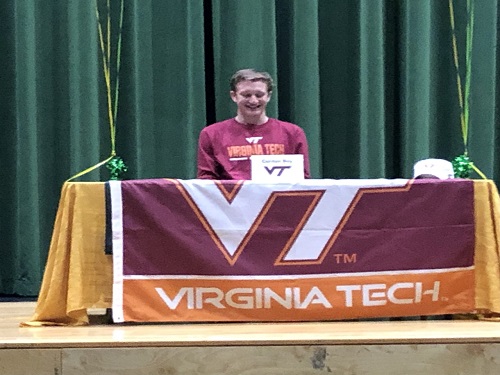 The first week in February generally marks the annual, nationwide "Signing Day" when senior student-athletes put pen to paper and 'sign' a letter of intent to attend the college/university of their choice, to "play" the sport in which they excel. Many Falcons who signed letters last week did so in an unusual setting.
Generally, all of the student-athletes who put their signatures to these letters do so in one room, sitting side by side.
The stands are always filled with parents, teachers, friends and often local news outlets, watching and waiting eagerly for the moment their student becomes official in regard to a [respective] college/university.
This year was markedly different, but the anticipation and excitement was still evident. Students, a few family members, and maybe a few friends watched as each student-athlete was ushered into the auditorium, distanced from their coaches who offered words of praise, then ushered back out.
Senior Carsten Bay plans to play soccer at Virginia Tech in the fall and although his 'day in the spotlight' was a bit different than other years, he was seemingly not phased by the changes made to this event.
"Overall, I enjoyed Signing Day" even though it was done individually.  I still had the support of my family and friends, who were able to attend," Bay said. "I'm happy that we got to have any type of Signing Day at all and I'm excited for this next chapter in my life."
However, schools and students, particularly student-athletes have found a way to adapt.  Although "adapting" may not be one's first choice, it seems to be a means to the end. In this case, recruitment.
Recruiters have been unable to travel, games have been postponed and/or canceled, whatever the case may be. In order for these recruiters to "see" players, student-athletes have used technology to their advantage, sending highlights of some of their best moments on the field, court, mat, etc…
According to Bay, he was recruited by reaching out to coaches, sending in film, and when possible, getting them out to attend games and watch me play.
The following Falcons will leave the "Nest" in June, as they prepare to open the next chapter in their lives.
Stevie Drum     Field Hockey      University of Richmond
Lauren Boucher     Field Hockey     Mary Washington
Sadie Cohen     Field Hockey     Longwood University
Carsten Bay     Soccer     Virginia Tech.
James Boynewicz     Lacrosse     Virginia Military Institute (VMI)
Barrett Foster     Tennis     Hampden-Sydney College
Nate Hawley     Baseball     VMI
Kyle Edwards     Baseball     Old Dominion University
Fenwick Trimble     Baseball     James Madison University
Gavin Spencer     Baseball     Christopher Newport
John Bastians     Baseball      Virginia Wesleyan University
Sam Slevin     Baseball     Randolph Macon College
Dominic Wilson     Football     United States Naval Academy
Brendan Wallace     Football     Hampden Sydney
Logan Keenan     Volleyball     Alderson Broadus
Wes Schlemmer     Wrestling     Roanoke College
Leave a Comment