Indoor Track takes on new season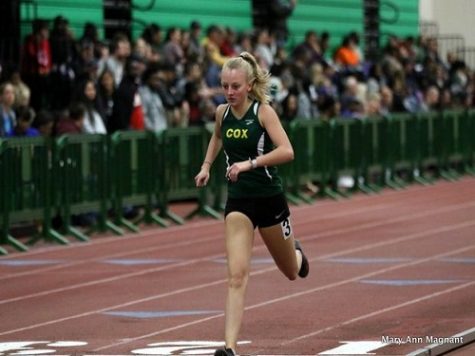 Falcon Indoor Track began their season last Thursday against other Beach District schools. 
What happened: The Indoor Track team traveled to Boo Williams Sportsplex in Hampton last Thursday, January 9th, to compete in their first regular-season meet of the 2019-2020 season. They competed against Beach District schools including previous cross country season rivals Ocean Lakes, Kellam, and Princess Anne.
Key players: On the girls' team, junior Morgan Mckinley and sophomore Morgan Cowen led the middle distance and distance team in the 500m dash and 1600m run. Sophomore Qiana Boyd led the sprinters in the 55m dash. Sophomore Tyler Dalton led the boys' team with a new PR of 4:56 in the 1600m. Sophomore Andre Stevens and junior Malachi Rouse finished in the top 10 for the 55m.
They said: "My first meet went good, and it was exciting to race. My times were good, but I would like to get even faster," freshman Bella Clark said.
Key moment: Multiple athletes set new PRs from previous seasons, not only in running events but field events including the long jump and high jump.  
Up next: The next indoor meet will be on January 30 at 1:30 pm at Boo Williams Sportsplex.

About the Writer
Bailey Deaver, Managing Editor
Senior Journalism III student