Alumnus Tyler Noe returns as football coach, teacher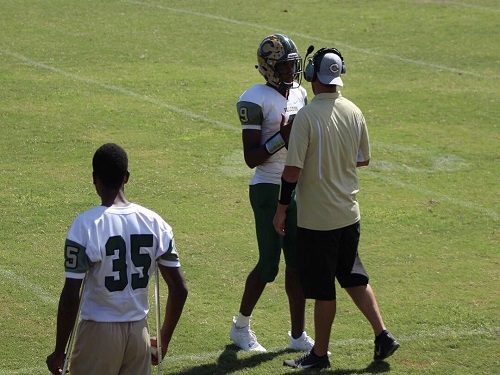 Michael "Tyler" Noe is a CHS graduate, turned teacher and coach. He graduated in 2006 and attended James Madison University (JMU) shortly after. At JMU, Noe majored in Sports Management and minored in Business.
However, overcome with the desire to change student lives, he returned to the 'Nest' to teach Special Education Inclusion Math and became the Offensive Coordinator and play-caller for the football team. 
Q: What position did you play and for how many years?
A: "I was a quarterback at Cox High School for all four years."
Q: Were there any times you wanted to stop playing football? If so, what made you continue?
A: "Yes, there were plenty of times I wanted to stop playing because we weren't the best team when I played but my teammates kept me going; I didn't want to quit on them." 
Q: Who was your role model during your time at Cox and why?
A: "My role model was my dad because he also played quarterback at Cox."
Q: What is your favorite memory from your playing days at Cox?
A: "My favorite memory was my Junior year when we went 7-3 and barely missed the playoffs. This was special because in the previous two years we won a combined 3 games."
Q: What is the difference between the team when you played versus the team now?
A: "The team when I played was much more about themselves as individuals but now the team comes together and plays for each other and team accolades."
Q: If you could give one piece of advice to athletes at Cox what would it be?

A: "Play for your teammates; don't worry about other things going on around the program."
Q: What made you want to become a coach?

A: "When I went to school I wanted to do something with sports at JMU so I came back to Virginia Beach and worked at a golf course. Eventually, I went to coach Stachelski and asked if he needed help. I just wanted to be around the kids and try to change their lives for the better and get them involved in extracurricular activities outside of school."

Q: Do you think your life would be different if you hadn't played football and how so?

A: "Yes, because I probably wouldn't be coaching and therefore would not have become a teacher.

Leave a Comment
About the Contributors
Lauren Moscovitz, Sports Editor
Senior Journalism II student
Marina Scherrer, Sports Editor
Senior Journalism II student