Falcon golf swings into post-season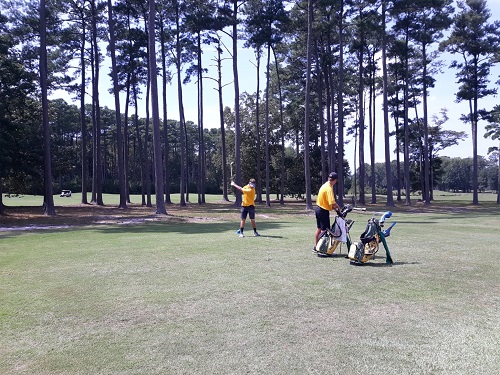 After a regular season filled with many wins and a few losses, upcoming post-season (regional) play has become the focal point for the Falcon Golf team. Going in with high expectations, the team's ultimate goal is to finish strong and win the state title.
What Happened: The Falcon Golf team has had an exceptional year  in the regular season, earning wins over teams such as Princess Anne, Bayside, and Grassfield High Schools. This year, the Falcons have entered the 5A Conference due to overall  lower student numbers, but have still managed to keep the lowest overall scores in the district.
Key players: Seniors Emma Landis and Robby Ruhl prove to be solid team captains and in line to [respectively] win a state championship. Junior Ryan Lemmon has also become an asset, contributing low scores and  embodying the "team player."
They said it: "I am most proud that [the players] have become a team rather than golfing as individuals. We hope to win regionals and then move to states. Hickory High School [will be] the toughest competition standing in our way," Head Golf Coach Mr. Mackey said.
Key moment: The team golfed a 284 at the Red Wing course,  pushing the Falcons to the top with the lowest scores.
Up next: The Falcons travel to Regional play at Sewell's Point in Norfolk on Monday, Oct. 7.
About the Contributor
Lauren Moscovitz, Sports Editor
Senior Journalism II student