Q&A: Falcon field hockey fights rival First Colonial once again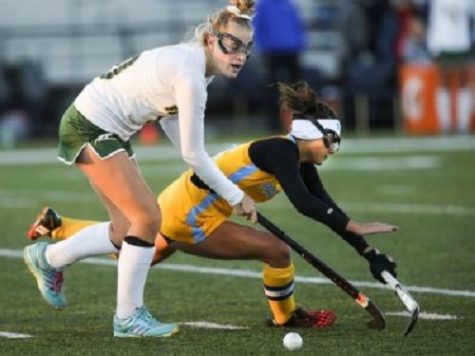 The Falcon Field Hockey team and long time rival First Colonial High School Patriots are perennial powerhouses in the state, usually meeting a few times each season in highly competitive games.
Last year, the Falcons got the better of the Patriots late in the playoffs and carried that momentum to a state championship title.This year, they will again meet on Tuesday, Sept. 17, at the National Training Center in what will be an early grudge match. 
Senior co-captain Sydney Hillier played on two state title winning teams during her freshman and junior years.
Q: How confident are you in the team's preparation for this game?
A (Hillier):"I think we are ready because of our extensive practice and energy. It is easy to get motivated to play your rival and that has showed in our preparation."
Q: What experiences do you personally have with the rivalry? 
A:"My freshman year, we beat them for the first time. My sophomore year we lost to them in the regional finals. Then in my junior year, we beat them in double overtime of the state championship in what became the best moment of my sports career so far."
Q: How has the team changed in comparison to last year?
A:"We lost some key motivators, but the seniors have stepped it up in the pre-season to match the same intensity as last year's team."
Q: Which of your teammates do you anticipate having a large role in this game/season? 
A:"My co-captain Zoe Campisi controls the field at all times. She will have a huge role in this game and the rest of the season."
Q: Does this game mean more than the rest because of the rivalry?
A: "Yes. The energy and level of play are always turned up for this game. Both teams are very talented and, in my opinion, it is one of the better match-ups in the state."
Also check out this link from about the CHS/FC rivalry at WAVY Channel 10 News:
About the Contributors
Nathan Unger, Editor-in-Chief
Senior Journalism III student
Sebastian Campos, Advertising Manager
Junior Journalism II student.
Spencer Davidson, Editor In Chief
Junior Journalism II student