Lady Falcon volleyball face Chantilly Chargers at state championship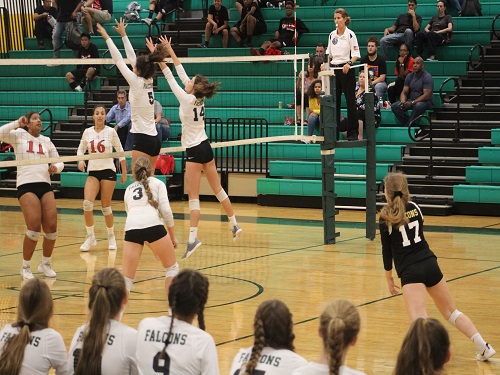 The girls volleyball team defeated the First Colonial (FC) Patriots last Tuesday at home and are headed to the state finals to battle the Chargers of Chantilly High School tonight at the College of William & Mary, Friday, Nov. 16, at 8 p.m.
The girls destroyed FC this week in three sets, with scores of 25-23, 25-19, and 25-17. Key plays were made by juniors Maddie Brunick and Emily Johnson, as well as senior Maddie Butkovich. Junior Payton Brunick scored the winning point of the final set that led the team to victory.
"We not only worked really hard this season, but we went in the with a winning mindset and it definitely paid off," P. Brunick said.
After a heartbreaking loss in the state finals last year against the Saxons of Langley High School, the stakes are high for the Lady Falcons to regain their title and the girls are ready to earn a state ring.
"I am so proud of the team and how far we have come. We went into the game playing hard and playing smart. We pulled through, giving it our all and playing to the best of our ability,"captain Rachael Humphrey said.
About the Writer
Audra Chaffinch, Editor-in-Chief
Senior Journalism III student