"Wednesday" resurrects new life into old franchise
It's "creepy and  it's kooky", she's 'Wednesday' from the Addams family.
Many fans of the original Addams family franchise were worried that this new Netflix spinoff, entitled 'Wednesday' after the Addams' daughter's character, would turn into another teen drama disaster like many other spinoff shows from the original series. Thankfully though, the newest addition has avoided that fate for now. Producer/director Tim Burton's modern spin on the Addams family "dark" daughter has been on top of everyone's Netflix's list and I am no exception. 
After being kicked out of her old school for her revenge against her brother's bullies, Wednesday is forced to attend Nevermore Academy; a school for the outcasts of the world and where her parents fell in love 25 years ago. Nevermore Academy is also where a "monster" is terrorizing and killing students and was the exact place a murder scandal involving her parents occurred when they attended the academy as teens. Wednesday (Jenna Ortega) does what any amateur sleuth would do and stays in school, after many threats to be kicked out by the headmistress, in order to solve the mysteries of Nevermore. 
Casting for any show can be difficult; but, it becomes nearly impossible when the audience already has a clear image of a classic character. However, the directors, I believe, basically knocked the casting out of the park. Jenna Ortega is phenomenal in the lead role of Wednesday. Ortega spins her own take on the character, making her stand out by not blinking to make her more unnerving to be around. Ortega also nails the few emotional scenes in which she is involved. 
The story was solid and the mystery was intriguing. The plot was full of 'red herrings' that makes one pay attention so the story remains understandable to the its audience. I liked that Wednesday didn't get everything right at first and when she guessed wrong, there were consequences. There is also a strong push to develop character relationships whether they were platonic, family-oriented, or romantic. I think most of the story's development is natural, except for maybe the love triangle that brews between Wednesday and the two male leads. To me, it felt out of place within the story and seemingly forced to make Wednesday's character more humanized and inclined to develop a romantic relationship.
Overall this was a solid adaptation to the Addams Family franchise. It gave a new spin to an old story and stood its ground against both naysayers and die hard fans. I recommend "Wednesday" to fans of the original black and white television show or a mystery lover looking for something new to solve.
Leave a Comment
About the Contributor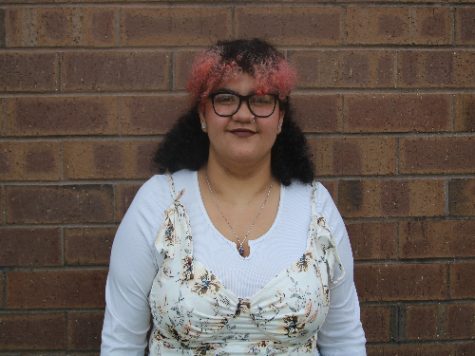 Destiny Bruce, Opinion Editor
Senior Journalism II  student.

My job is Opinion Editor which means I get to watch movies and, then give my opinions of them. I love my position because,...