NAS Oceana Air Show signals return of the Blue Angels flight squad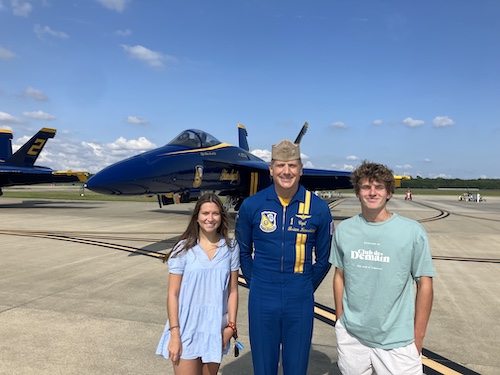 Returning for the first time in two years due to COVID, the Blue Angels are back in full swing.  "Back to the Beach" was this year's air show theme. Created to act as a tribute to the Hampton Roads community and bring back tradition that was put on pause. Last weekend, the Blue Angels performed at the NAS Oceana Air Show. 
The media liaison for Oceana and the Blue Angels air show reached out to high school principals across the city to ask for student representatives that have a connection to media processes.
Prior to the show, Falcon seniors and Journalism III students Michael Hillier and Erin Bailey were selected to attend the Air Show Media day as the student representatives. 
The media day was filled with a press conference for attendees to gather information and engage in questions that corresponded with the Blue Angels.  
"It is very humbling to be here representing the individuals in Virginia Beach.  I have spent a lot of time in this area and it is fantastic to come back and have the opportunity to represent the people of Virginia Beach," Capt. Brian Kesselring said.
Kesselring and his team proved it on Saturday with a display of perfection in the air.  They performed mind-blowing stunts in their F/A-18 super hornet jets.  However, this is not entertainment, it is their mission.
According to Kesselring, pilots build trust using four factors: optimism, work ethic, mission, and talent.
Their ultimate goal is to prove the might of the navy, displaying it in their shows with teamwork and excellence.
"We spend a lot of time together, that's what we do and you learn to trust and rely upon one another," Kesselring said.
Leave a Comment
About the Contributors
Erin Bailey, Editor-in-Chief
Senior Journalism IV Student


Michael Hillier, Editor-in-Chief
Senior Journalism III student