Seniors enter new normal, preparing for Greek life in fall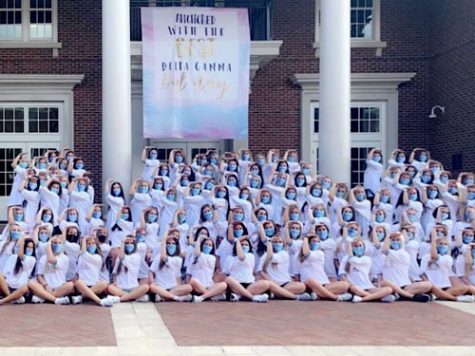 While many Falcon seniors prepare to transition into college/university life, some are also preparing to join their [respective] school's Greek life through online, hybrid or in-person sorority and fraternity recruitment or more commonly known as 'rush.'
Rush week occurs twice a year for fraternities and sororities. Fall semester rush is generally a formal process where undergraduate women/ men join a sorority/ fraternity on campus.
Formal sorority recruitment is an undertaking that is made up of many different tasks by both active and potential members. During rush week, everyone involved is seemingly held to a higher standard which involves everything from dress code and code of conduct to rules and volunteer work.  The University of Alabama has the largest Panhellenic Association in the country meaning women going through primary sorority recruitment are help to a much higher standard than other smaller greek life programs.
With the Covid-19 pandemic altering the typical college or university experience, sorority rush week, for example, has been held far differently than normal. In previous years, undergraduate women would attend convocation, four rounds of recruitment, and bid day all in person. These rounds can be broken up into a couple of days.
Falcon alumnus and University of Alabama student Ashley McGrath participated in online sorority recruitment for the fall 2020 semester during the height of COVID. The schedule she followed for rush week is as follows: Convocation, Open House Day I, Open House Day II, Philanthropy Day I, Philanthropy Day II, Sisterhood Day I, Sisterhood Day II, Preference Day I, and Bid Day.
"I think it was great to have the ability to participate at all, but it was definitely was not the traditional experience and was difficult to get to know the houses on a deeper level without being able to be there in person," McGrath said.
The first seven days of recruitment allow potential new members (PNMs) to visit the seventeen chapters. After the 'Open House' round, the 'Philanthropy' round and the following are invitation only rounds, meaning both the sorority and PNM must request to return to the chapter. Each day the number of chapters PNMs can visit decreases. Rounds start by allowing a visit to all seventeen chapters and narrowing it down to two chapters on Preference Day 1.
Preparation for these events also comes with a plethora of tasks. For instance, at the University of Alabama, PNMs are not required to, but are strongly encouraged to obtain one – two recommendation letters for each of the seventeen Panhellenic Association's sororities on the row. In recent years though, some sororities such as Phi Mu, have done away with letters of recommendation in order to 'level the playing field'.
To obtain a letter of recommendation, PNMs must contact family and friends who are alumni of sororities that exist at their respective college or university. Leaving the search for recommendation letters solely to the PNMs does not level the playing field like Phi Mu has done, but instead make the process of obtaining a chapter specific letter of recommendation more difficult.
For those who are unable to obtain chapter specific letters of recommendation, there is an option to submit a non-Greek letter. These letters are designed to speak to the PNMs character and community activities. PNMs can submit these letters to all seventeen chapters and ask any teachers, coaches and counselors.
While recommendation letters are optional, they can significantly impact the decision made by recruiting sororities. PNMs visit each chapter to become accustomed with their community, but this is often not enough. If a PNM is in love with a particular chapter during recruitment, a recommendation letter persuades/ influences the sororities decision as to who to accept into their sisterhood, especially with past years recruitment being fully virtual.
In addition to letters of recommendation, an online application must be filled out including a sixty second video introducing oneself, social resume, list of activities including community service and honors, sorority legacy information, digital photograph, parental permission, and early move-in registration.
However, application requirements and the rush experience are not consistent with every college or university. Every chapter of a particular fraternity or sorority shares the same symbols, yet the communities within each chapter are unique to them.
According to Alpha Phi Alumnus Erin Ruane, sororities and fraternities have bylaws, symbols and traditions that are shared across all chapters, but it is important for each chapter to be able to choose members that will fit their unique group of girls/boys.
Generally, those who wear the same Greek letters are not the same type of student as chapters range in size, make-up and all around quality of members. Thus, it's important to find one's 'best fit' when deciding to become a part of such a life-changing experience that will impact each student in various ways throughout their four years in school.
Leave a Comment