Alumnus Cam Bailey reveals as UVA's mascot "Cav-Man"
Falcon alumnus Cam Bailey is a fourth year student at the University of Virginia (UVA) and during that four year tenure he acted in secret as the famous UVA mascot "Cav-Man".  It was not until the last month of his final year that Bailey was given permission to reveal this secret.
UVA keeps the "Cav-Man" mascot's true identity a secret for four years, a long standing tradition at the school. The idea is to keep this student's identity a secret because anyone could be "Cav-Man" and keeps the students wondering who is under the costume supporting their school.  Tryouts are not typically announced at the UVA, students hear about them through knowing the right people at the right time. 
"My favorite memory as  Cav-Man was working the UVA versus Virginia Tech football game. It was such a tight game, the teams kept going back and forth so I had one of the coolest, most exciting games. I even got to change out of the costume and storm the field with other UVA students to celebrate our win," Bailey said. 
Under the title of "Cav-Man", Bailey did more than just cheer at football, basketball, and other varsity sports games and matches.  He was also afforded the opportunity to travel to the ESPN center in Connecticut where he met other mascots from different colleges.  Bailey even earned the coveted Mascot MVP pre-COVID.  
According to Bailey,  it was an easy all around transition to be involved at UVA.  He stayed busy in high school, so it  made it easy to be busy in college and he was not going to let his more difficult classes take over his life experience. Moreover, what translated the most from and to his success as "Cav-Man" was being leader of the Falcon "Nest", as he didn't realize how much school spirit was inside him during high school until he became the mascot.
From children's' charity events to making guest appearances at weddings, Bailey earned his spot as "Cav-Man" and represented his school with authority.  Furthermore, he was able to balance his school workload, his job as the school mascot, while also competing on the men's water polo club team and was an active brother in the Beta Theta Pi fraternity. 
"It was extremely difficult at times and sometimes frustrating hiding that I was the mascot and lying to some of my best friends.  Sometimes when I was at a game, I had to tell my friends I was selling t-shirts.  It even went as far as I was the new cheer team coach.  I managed to keep it pretty much a secret which in the end made for a surprising reveal to all my friends," Bailey said. 
Bailey will graduate this May with a major in Bachelor of Science degree in Systems Engineering and a minor in Computer Science. 
From the four years spent as a Falcon to his four years at UVA, Bailey filled his time supporting his school and making the absolute most out of his time in college.  
According to Bailey, his time at UVA as "Cav-Man" was exceptional and he definitely will always have the best memories of his school.
Leave a Comment
About the Writer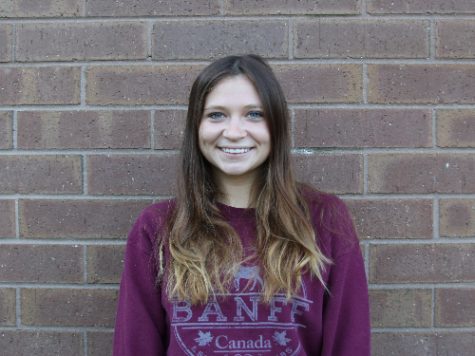 Erin Bailey, Editor-in-Chief
Senior Journalism IV Student