Q&A: junior Keontae Jenkins sets new standards on track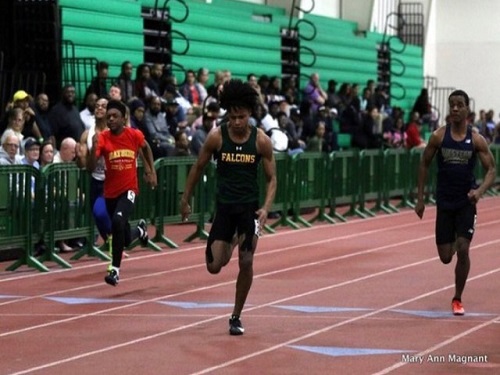 All-State sprinter and varsity football player, junior Keontae Jenkins blew away the competition this season.  As a "newbie", he broke two school records in the 55m dash (6.45 secs.) and the long jump (22-5.5) records indoors.  In addition, Jenkins won six events overall in sprinting and jumping. He later went on to win the 6A Region A runner-up in the 55m.
Q: How long have you been at Cox High School?
A: "I have been at Cox for one year so far."
Q: How did you get involved with track and field?
A: "I got involved with track so I could have something to do once football season had ended."
Q: What events do you compete in?
A: "I compete in the 55m, 300m, long jump, and triple jump."
Q: What is your favorite event?
A: "My favorite event was the 55m."
Q: Did you place at states?
A: "I placed 5th [in the 55m dash] at states."
Q: How did it feel to be all-state in your event(s)?
A: "I didn't really feel anything being all-state. [The goal} was to be first place, so I was upset about that because I failed at what I had wanted."
Q: What are your goals for the upcoming season?
A: "I want to break the 100m record [for outdoor]."
About the Writer
Bailey Deaver, Managing Editor
Senior Journalism III student