Gymnastics team flips for medals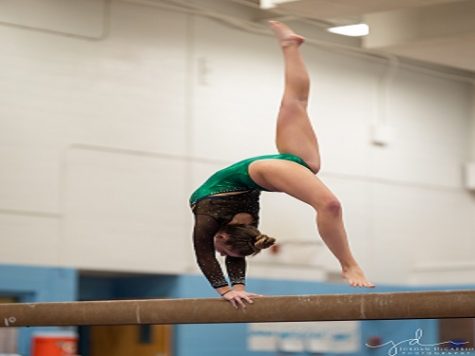 The gymnastics team showcases a myriad of jumps, tumbling, and dancing to boost school morale at pep-rallies and their meets with other local schools.
The team's season begins in November and ends in January, competing in six regular meets throughout the season.
In each gymnastic meet, six girls compete against two other teams in each event including: floor, beam, bars, and vault. Each team receives a score between one and ten and the top four scores from each team then determine who wins the overall competition.
The lady Falcon gymnastics team is currently coached by Christy Berry-Spriggins, and are led by senior captains  Gabs Marscheider and Chloe Hulls.
The team dynamic consists of  strength training, flexibility, and constantly repeating routines for mastery and memorization. The girls seem determined to push themselves to surpass their expectations and become better all-around athletes.
"I love being on the gymnastics team because it pushes me to be my best and lets me help my teammates achieve their goals," senior captain Gabs Marscheider said. 

About the Contributors
Anna Merklinger, Student Life Editor
Senior Journalism II student
Nyah Jana, Social Media Editor
Senior Journalism II student
Jillian Mayo, Staff Writer
Junior Journalism I student.