VTfT and Coffee Shop combine with local business, Shorebreak Pizza field trip
---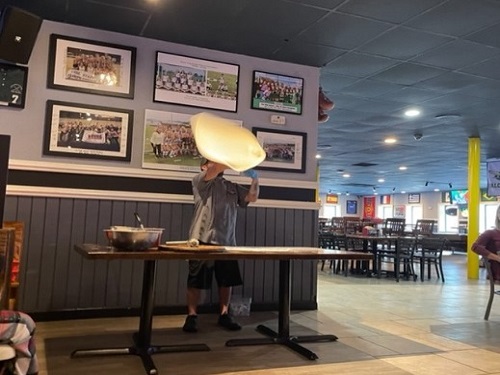 Students from Virginia Teachers For Tomorrow (VTfT) 1 class paired with students who work in the school's Coffee Shop, as well as local business Shorebreak Pizza to organized a 'behind the scenes' field trip.
As VTfT students aspire to become teachers and Coffee Shop includes students with disabilities who are learning to  acclimate themselves into a working environment, the field trip made sense. And, Shorebreak pizza is a local favorite so students are not only learning to create a delicious menu, but they are learning from some of the best chefs at the Beach.
Last year Shorebreak hosted a virtual field trip with the kids due to COVID, but students were able to leave campus this year and have an actual hands-on learning experience. The field trip also provided the opportunity for Coffee Shop students to learn about jobs, practice with currency and ordering off menu, and measure ingredients. Students witnessed a dough flipping presentation and learned the secrets behind what makes Shorebreak so successful. 
According to VTfT teacher Mrs. Nardelli, she cannot express the gratitude she feels for Shorebreak and its staff for creating such a special opportunity for all of the students involved; their staff is beyond phenomenal and were so welcoming and kind to all of them, truly making it a learning experience for the kids.
Leave a Comment
About the Contributors
Elyse Unger, Editor-in-Chief
Senior Journalism III student

I write about a variety of topics, but I most enjoy making videos and reviews for local businesses in Virginia Beach....
Amelia Keck, Editor-in-Chief
Senior Journalism III student

In school, I am the Student Council Secretary, Chair of the Community Relations Committee, and Publicity Officer for the...