Q & A: FBLA teacher brings home school spirit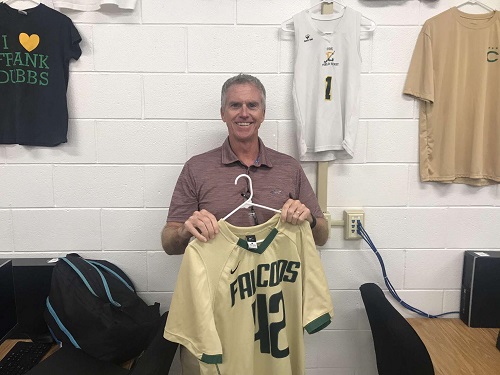 When Future Business Leaders of Tomorrow (FBLA) sponsor and Business teacher Bruce Ruddock decided to highlight past and present sports teams and clubs within the school, he came up with the idea of a "jersey wall". Since his initial email at the sent at the end of summer to faculty, staff and alumni, organizations since the school's opening in 1961 were happy to donate some memorabilia to his 'wall of fame'.
Q: Since you have only taught here for a few years, what inspired you to develop the idea for the jersey wall?
A (Ruddock):  "Decorating a classroom is always a big challenge to me.  I was given a new room this year and wanted to do something different.  The wall of jerseys and shirts is supposed to represent the 3 A's that make kids want to come to school the most:  athletics, activities and the arts."
Q: Do you think your jersey wall has made an impact on school spirit. If so, then why?
A:  "My kids and the other teachers that have seen the wall have all had positive comments.  Seeing the available fun clubs, activities and sports at our school seems to bring back school spirit."
Q: What was your goal in making the jersey wall?
A: "To balance out the academic focus in my lessons and the other walls in my room.  I wanted a constant reminder of the other opportunities that being a Falcon brings to my students. Ultimately, I would like to have every club and organization publicized on the wall."
Q: What sports, clubs and organizations are currently on the wall, or donated an old jersey or T-shirt to the cause?
A: "I have football, baseball, field hockey, swimming, golf, cross country, soccer, volleyball, lacrosse, gymnastics and cheer, but ALSO shirts from various clubs and the Arts such as  SCA, the Coquettes, DECA, FBLA, FCCLA, Falcon Press and Orchestra and more coming in every day."
Q:What is the oldest jersey you have on the wall and who gave it to you?
A: "The oldest shirt I currently have is a 14-year-old volleyball jersey that was donated by assistant volleyball coach Elizabeth Clark."
Q: Would you like to continue this look back into Falcon history next year, possible growing it into something bigger? Why?
A:  "I already have to grow it past the one wall I originally planned!  I am definitely going to keep it for next year because it has worked great.  I like the responses I've gotten and I like to see the wall full of opportunities!"
Q: What jersey would you consider a favorite, why, and who donated it?
A: "My favorite jersey is Tayvion Robinson's football jersey from last year, now a freshman football player at Virginia Tech, because it is the jersey that was ripped off him during one of his games from his senior year."
About the Contributor
Finley Legg, News Editor
Senior Journalism II student