Falcons host multi-wrestling event, win it all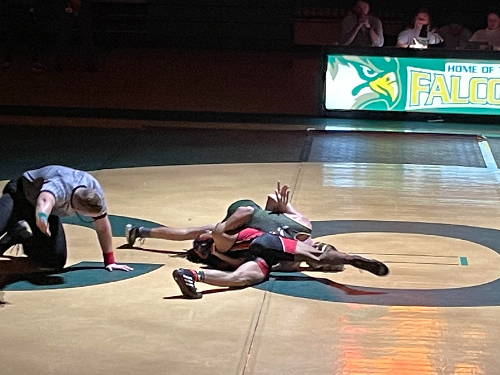 What happened CHS hosted and participated in a Multi-Wrestling event last week against both the Dolphins of Ocean Lakes (OL) and the SunDevils from Salem (SHS) High Schools. OL and SHS wrestled in the first match, ending in an OL win. By the end of the event, the Falcons cam out on top, defeating both teams, mostly due to their overall agility and strength.
Key Player: Even though junior Grayden Howard had to actually lose weight to qualify for the heavyweight weight class, 215-285 pounds, he succeeded in pinning his opponent to win the match.
Quotes:  "We had good intensity in the room and a bunch of practice and that is why we won," senior co-captain Parker Tillery said.
Key moments:  Freshman Ryan Watson who regularly wrestles at the 190 lb. weight class was bumped up to the 215 lb. weight class was bumped up by one weight class, 190 lbs., before his match. Weighing about 25 lbs. less than his opponents didn't stop him, though, as he went on to win both matches.
Up next On Wednesday, December 14, the Falcons will face off against the Kempsville Chiefs at Tallwood High School at Tallwood at 6:00 p.m. 
Leave a Comment
About the Contributor
Ethan Casey, Sports Editor