Homecoming spirit week back face-to-face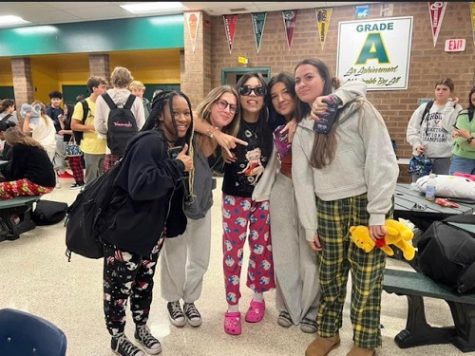 Homecoming week came back full force last week in the Falcon's Nest.
For the first time in two years, students were finally able to participate, without masks, in the festivities that include: the bonfire, hallway decorating, pep-rallies, and the widely enjoyed spirit days. 
This year's homecoming theme was "A Night Under the Stars," and to represent this, each grade level was assigned a different theme, or biome. A biome being a a naturally occurring community or habitat.
The Class of 2023 was given an outer space theme, The Class of 2024 was given the ocean, the Class of 2025 was work with a  jungle theme, and the Class of 2026 were given Arctic tundra.
Spirit week dress up days has always been a popular tradition that students and staff alike are able to enjoy and get creative.
Dubbed "Hibernation Monday", or pajama day, for the sake of the theme was the first themed day of the week. Students and staff sported their favorite comfy slumber apparel, creating a cozy and relaxed day for everyone. Some common looks from the day consisted of matching pajama sets, Ugg boots, and stuffed animals. 
On day two Falcons got to take their own take on actor Adam Sandler's infamous style. Sandler, known for his oversized and mismatched outfits, has made a splash on social media with his quirky yet practical style. Many students took to the closets of their older brothers and fathers for a pair of baggy gym shorts and a used t-shirt. Teachers even took part in the fun, with SCA co-sponsor and science teacher Mrs. Shumate sported a pair of knee length shorts, a pineapple collared shirt, and some tube socks. 
"Wilderness Wednesday" brought out everyone's inner predator and prey with camo and animal print inspired outfits. Students picked sides on which kind of print they wanted to sport, with camo seemingly being the most popular of the two. Some of the unique looks on this day included a camo hunting poncho and a tiger onesie. 
"Cradle to Grave" ruled the halls on Thursday with students dressed out like their favorite age. Whether people chose to throw on a grey wig or dress as the typical toddler, participates all were able to put their own comedic take on the theme. Throughout this day, students were seen specifically with fake baby bellies to represent a mom or a cane to be a senior citizen.
Friday closed out the last day of spirit week with a classic green and gold themed day, named "Back in the nest Friday," to honor the theme of nature. Students and staff put in their all, by decking themselves out in head to toe green and gold. Friday was the day that Falcons got to show the most pride for being a part of the CHS family. 
"I thought this was the best spirit week we have ever had! My favorite day was Adam Sandler," Shumate said.
Students and staff all got to participate in the event filled week, and it showed to be a success around the school as a start to the new school year.
Leave a Comment
About the Contributors
Christine Powers, Student Life Editor
Junior Journalism III student

My name is Christine Powers! I am a junior journalism student who is working on updating the Falcon Press Life Pinterest...
Olivia Prettyman, Student Life Editor
Junior Journalism II student
Amelia Keck, Editor-in-Chief
Senior Journalism III student

In school, I am the Student Council Secretary, Chair of the Community Relations Committee, and Publicity Officer for the...