New approach to coaching, hits softball field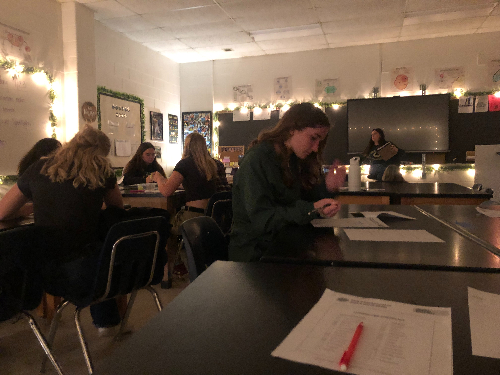 The Lady Falcons softball team has been practicing constantly to prepare for their upcoming "Fall Ball" season. Last year was a seemingly fresh start for the Lady Falcons as they gained a new head coach who brought "Fall Ball" back to the program. 
As softball is a spring sport, the team will start this school year with a "Fall Ball" season, where they will scrimmage  other schools in the district. Other Virginia Beach schools' softball programs that currently participate include: First Colonial, Salem, Princess Anne, and Ocean Lakes High Schools.
Another new addition to their training program is what second year Head Coach Lily Moresco calls "Mindful Fridays". 
"The goal of our "Mindful Fridays" is to help the girls develop a positive relationship with the pressures and setbacks they will face as athletes and to identify character skills, both physical and moral, that they want to build on and be known for at the end of the season," Moresco said.
Coach Moresco found inspiration for this idea from a book called "What Drives Winning" by author Brett Ledbetter, as well as Oklahoma Softball Coach Patty Gasso.
Moresco had her team read the book in preparation for their Friday mindful meetings with the intention that her team will participate in activities derived from the book, that will help them as not only as individual athletes, but to bond as a team. 
The team, in hopes of bringing home some wins this year, remains dedicated to their new coach as well as the mind and body practice incorporated into regular workouts both on the field and in the weight room.  The team works toward bettering themselves on a regular basis which make them more comfortable as a team on and off the field.
According to senior Riley Fay, there are many new incoming players who the team is excited about; to start bonding and playing. Fay also believes that this year will be a good opportunity for new beginnings and improvements for the entire program overall.