NAHS, Saint Mary's Home collaborate, annual art auction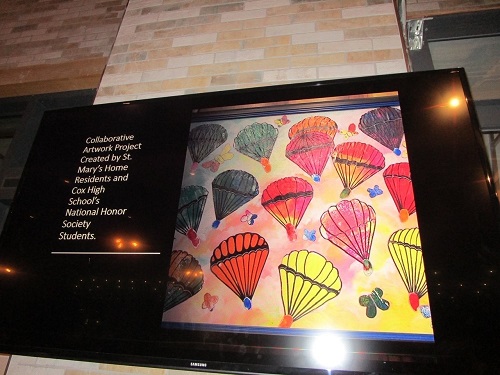 The National Art Honor Society (NAHS) and sponsor Mrs. Van Veenhuyzen have brought their particular brand of artistic expertise to Saint Mary's Home for Disabled Children for the last three years; each year brings a new, relevant theme. While, last year's theme was entitled "Celebrating a Good Life,' where students worked with children to create pieces of their own "bubble art", this year's theme was entitled "Leap into a New Year",  based on the 2020 Leap Year.
NAHS students began to create a printmaking workshop as a collaboration opportunity for children at St. Mary's Home back in November. At the time, students created "linocut" prints of air balloons that included a collage of paper printed during the workshop.  The purpose of the project was to create a background collage, a sky-painted canvas that showcased parachuting men who were "leaping" out of airplanes; men that were created from the children's fingerprints. Students also designed and added hot air balloons using the linocut technique, combining all of the creative elements onto a watercolor painted sky to create the final piece.
 NAHS representatives junior Julie Ventura and senior Lydia Joe attended the Harbor Club Waterside Auction at the end of February, where they presented the finished product that ended up selling for $700. All proceeds from the sale were then donated to better the lives of the children who live at the Saint Mary's Home.
"Our goal was to have more interactions and to get creative with the kids.  The money we were able to donate was just an added bonus,"  Van Veenhuyzen said. " I am so proud of all the students' hard work and the outcome of the piece."
About the Writers
Payton Brunick, Sports Editor
Senior Journalism II student
Maddie Brunick, Sports Editor
Senior Journalism II student