Falcons soar to victory over rival F.C.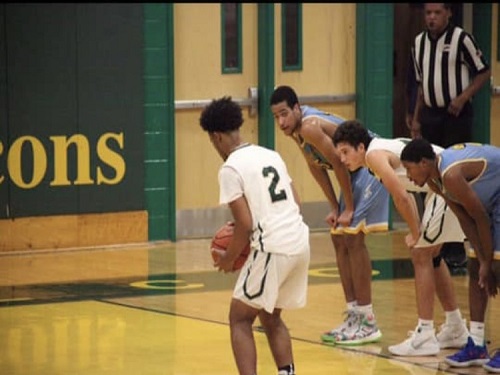 When most students should be at home studying for tests before the holidays, but last night a decent portion of them could be found inside the Stuart O. Holland Gymnasium instead.  Why? Most likely due to the long time rivalry between the school and First Colonial High School (FC). But, the Falcons came out on top, beating FC 50-52 in the last 20 seconds with a game winning basket by senior Darrien Pratt, destroying the last hope of victory for the Patriots. 
"Right before the buzzer there was this huge rush, but I knew I couldn't get too excited because I still had to make the free throw to close out the game," senior Darrien Pratt said.
The Falcons were aided by the all award-winning cheer team, coquettes, and step team, as well as the Nest student section. With energy that can only be described as riotous, the Nest was electric, standing on the edge of their seats, and even the court itself in the end. In fact, there was so much energy in the gym that Principal Dr. Kelly and the support officers from the Virginia Beach Police Department had to contain the Nest from spilling out into the game.
As the winter holidays approach and colleges release for break, it's not uncommon to see alumni at the game, some of which even played on the team last year. So, after the buzzer rang, the Nest, along with these alumni stormed the court with the basketball team in a movie-worthy display of excitement.
This nail-biter victory comes on the heels of a victory against Kellam High School on the opening night of the season, and a win against Bayside High School in overtime last week, putting  the Falcons ahead, 3-0 for the start of the season. 
 "Our goal is to continue this winning streak. We're gonna take it game by game and continue to work hard," junior Fenwick Trimble said.
About the Contributor
Spencer Davidson, Editor In Chief
Junior Journalism II student