Falcon boys volleyball ranks, 757 top team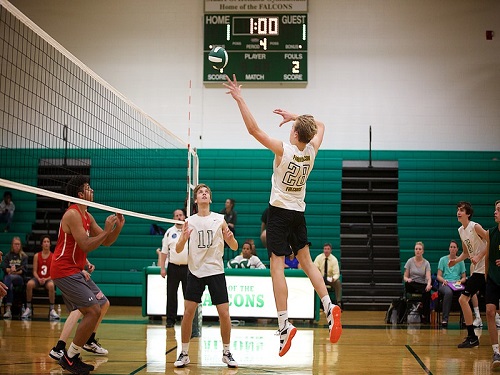 Falcon Boys Volleyball boast a blazing 7-2 season record with huge defeats over Beach District powerhouse teams including Princess Anne High School. The top ranked 757 team is led by six seniors with a strong underclassmen presence. Regular season successes will take the team will take to post-season competition in early November.
Seniors Tanner Bailey and Shaughn Reese have played on the team since their freshman year of high school.
Q: What primarily motivates the team?
A (Reese): "Our primary motivation is winning states. Everyone on the team knows how close we've gotten in the past two years and we want to finally bring home the trophy before our six seniors go off to college."
Q: Which players have had the greatest impact this season and how?
A: "Sophomore Daniel Hurley has been the backbone of the team ever since he stepped on the court because he's so versatile and tall. Other than Hurley, senior Michael Gessler and sophomore Chris Peters really know how to put the ball away."
Q: Who is your greatest competition this season?
A: "I would say our greatest competition this year is either Kempsville or Ocean Lakes High Schools. They've both been solid for the past couple years, but recently they've definitely stepped it up. We know as a team that we have to get past them if we want to win states."
Q: What is the team's greatest strength this season?
A (Bailey): "The team's greatest strength is that the young players have matured in their playing and have improved more than I have expected them."
Q: What has been the greatest accomplishment of the team so far?
A: "[The greatest accomplishment is] when we came back from being down two sets against Princess Anne to win in five."
Q: When was a time the team had to overcome an obstacle and how did you get past it?
A: "During the Kempsville High School game, two of our starters were sick or couldn't start, but we played two people that came off the bench. They came in and played their hearts out and we beat Kempsville after a five set match."
About the Contributors
Bailey Deaver, Managing Editor
Senior Journalism III student


Lauren Moscovitz, Sports Editor
Senior Journalism II student
Tanner Bailey, Opinion Editor
Senior Journalism II student