May movie review brings "Avengers: Endgame"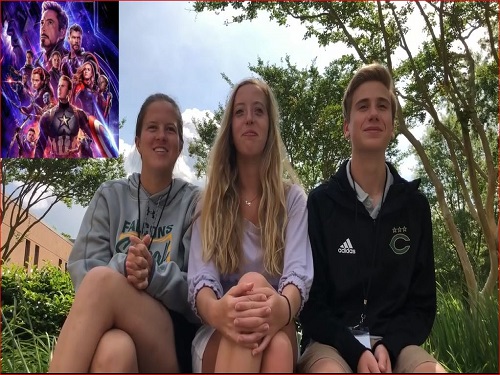 Seniors Taylor Everett, Anna Mason, and junior Eric Michals recently saw the final conclusion of over a decade of Marvel movies,  Avengers: Endgame .
"Avengers: Endgame" follows in the aftermath of "Avengers: Infinity War", where the villain Thanos wipes out half of all living creatures, leaving the remaining Avengers to figure out a way to bring back the living.
The movie stars well-known actors Robert Downey, Jr. as "Iron Man", Chris Evans as "Captain America", and Chris Hemsworth as "Thor".
Everett awarded the movie an outstanding 10/10, finding the movie to be full of surprises, epic fight sequences, and emotional endings.
Mason rated the movie a 9/10, due to directors' ability to incorporate humor into an otherwise action-packed blockbuster full of amazing visuals.
Michals scored the movie an 8/10, as he found the plot to be too drawn out during the rising action, but found the adventure to be full of plenty of twists and turns with one of the best endings he has ever seen.
Overall, all three found the film to be the perfect conclusion to over a decade of 'Marvel'ous films and a must-see for anyone who enjoys the action packed 'superhero' movie genre.
About the Contributors
Taylor Everett, Sports Editor
Senior Journalism II student
Eric Michals, Managing Editor
Senior Journalism III student
Arya Nair, Editor-in-Chief
Senior Journalism III student