February movie review: The Upside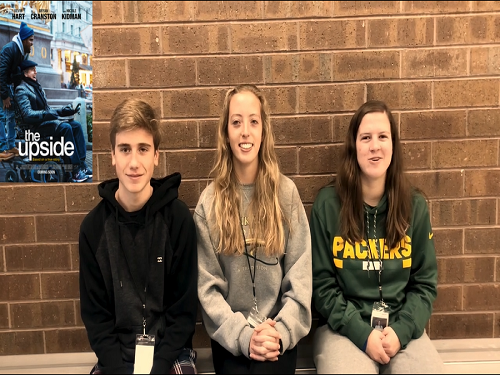 Seniors Anna Mason and Taylor Everett, along with junior Eric Michals recently reviewed the movie, The Upside, a PG-13. The film, based on a true story, follows the story of "Phillip", a wealthy quadriplegic and his new caretaker, "Dell" who helps him with his day-to-day regimen. The film stars Bryan Cranston, Kevin Hart, and Nicole Kidman.
Everett, awarded the movie a perfect 10/10, finding the acting astounding and the chemistry between the actors to capture the true essence of the real-life friendship.
Mason gave the movie a 9/10, as she believed the movie to not only be absolutely hilarious, but also emotional and heartfelt.
Michals rated the movie an 8/10. His only criticism was in the "surprising amount of inappropriate content that, [he believed] the audience wasn't expecting.
Overall, Everett, Mason, and Michals found The Upside to be an extraordinary movie and a 'must see'. However, all three agree and do recommend, that parents understand that the movie is rated PG-13 for a reason. 

About the Contributors
Taylor Everett, Sports Editor
Senior Journalism II student
Arya Nair, Editor-in-Chief
Senior Journalism III student