AP Biology students attend NMSI sessions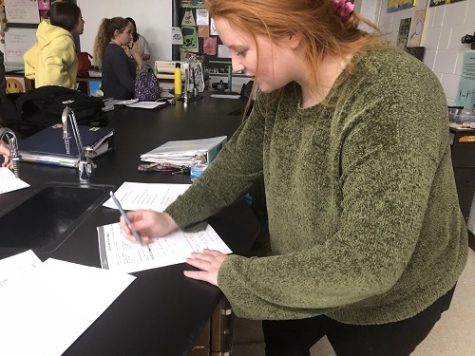 All Advanced Placement (AP) Biology students will attend three National Math and Science Initiative (NMSI) study sessions on Saturday Jan. 12, Mar. 2, and Apr. 6 from 8 a.m. until noon at Kempsville High School, that will include a total of four different sessions for students.
At the first session held last weekend, students attended three sessions including NMSI related topics such as, evolution, cellular functions, and ecological diversity.  A final session reviewed all objectives from the previous information given that morning, along with a short Q & A with one of the nation's leading Biology teachers, Lisa Alexander. Students from Cox, Princess Anne, Kempsville, Landstown, and Ocean Lakes High Schools were in attendance.
AP biology teacher Mrs. Shumate takes her students to these NMSI sessions to prepare them for the AP exam in May.
"The NMSI session gives the extra information and reinforcement the students don't get during normal school hours," Shumate said. "It's great for students to hear from other educators as well, who may offer extra information."
Former AP Biology student Lauren Fatigate has attended all three NMSI sessions and believes that these sessions help teach students test taking techniques to better improve their score.
"The unfamiliarity of the environment and learning from some of the best teachers in the country helped me learn a lot easier and much quicker," Fatigate said.
About the Contributor
Eric Michals, Managing Editor
Senior Journalism III student