NHS supports Diamond Springs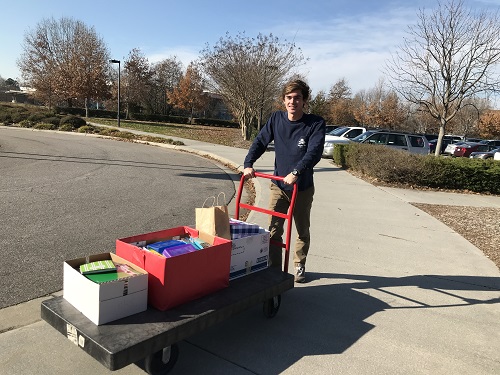 Members of the school's National Honor Society (NHS) delivered school supplies to local elementary school Diamond Springs Elementary last week.
As one of their many community service projects, NHS began collecting school supplies at the beginning of October to deliver to a local elementary school in need. After two months, hundreds of school supplies were collected.
NHS co-sponsors, Mrs. Kopacz and Mr. Hahn reached out to Principal Coston of Diamond Springs Elementary to ask if they were in need of supplies. Principal Coston expressed how greatly her school needed supplies and gratefully accepted the donation.
Last Friday, seniors Mark Rogerson, Olivia McNulty, and Nick Martin delivered the supplies to the elementary school. The students and administration of Diamond Springs were overcome with joy at the arrival of their new supplies.
"It was great to see that the supplies that NHS collected went to good use and I really liked seeing how happy the principal and kids were to receive the school supplies," Rogerson says.
About the Contributors
Olivia McNulty, Student Life Editor
Senior

Journalism III student

Olivia's favorite quote is, "To be hardcore, you have to live hardcore."