Distinguished artist Steve Prince inspires art students, William and Mary Muscarelle museum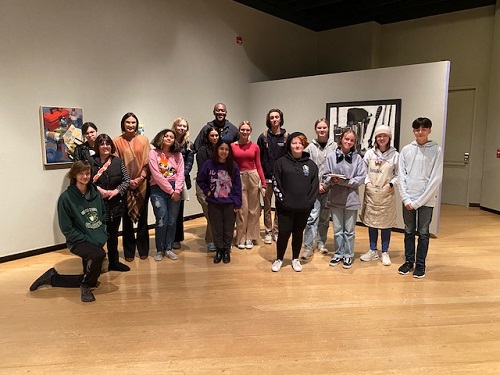 Art Teacher Mrs. Van Veenhuyzen and her Advanced Placement (AP), Art II, and Art I students visited William and Mary's Muscarelle Museum yesterday for a Printmaking Workshop, taught by Steve Prince, a renowned artist, and icon for many aspiring artists.
According to Van Veenhuyzen, meeting Mr. Prince was a dream come true for not only her but her students as well, as few students will ever have a chance to be taught by someone so skilled in their line of work.
Prince is currently the Director of Engagement and a Distinguished Artist in Residence at the Muscarelle Museum of Art. He specializes in the art of printmaking and has been referenced in Van Veenhuyzen's art lessons for years.
"I thought the trip was inspiring because, before I wasn't going to participate or hadn't thought about participating in Fine Arts at William and Mary, but now I want to," senior Art II student Keith Pezzella said.
Art Trip to William and Mary's Muscarelle Museum Part II:
As a follow-up to their first field trip to William and Mary's Muscarelle Museum, Van Veenhuyzen and her art students returned for another figure drawing workshop.
For a second time, art students had the privilege to work beside and learn from renowned artist Steve Prince, an artist Van Veenhuyzen holds in high esteem.
"It was an incredible experience and by the end of the workshop, we all walked away as better and more advanced artists," Van Veenhuyzen said.
Leave a Comment
About the Contributor
Samantha Radford, Opinion Editor
Sophomore JII student

Hi, my name is Samantha Radford. I am a Student Life Editor for the Falcon Press Newspaper here at Cox High School. I enjoy writing,...