Lady Falcon field hockey team achieves greatness, five consecutive state titles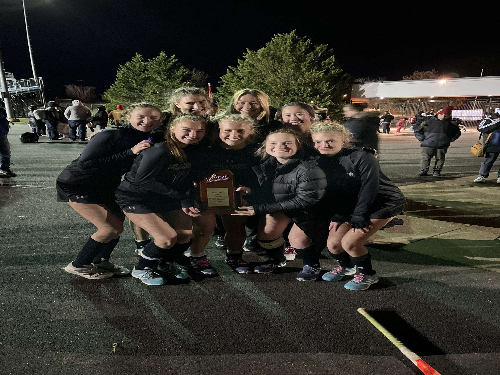 The Falcon girls varsity field hockey team ended this season just as they ended the past four seasons, as Class 5 state champions; making this season their fifth consecutive state title.  The program itself now has 24 state titles overall.
"We played with heart, which was our motto for this season.  I definitely think we really showed our heart at this game," senior Rose Bannon said.
The Lady Falcons took on Nansemond River High School (NRHS) last weekend, traveling to Spotsylvania in northern Virginia to play for the state title. Although the Falcons defeated NRHS 2-0 in the final state title game, they did feel the pressure. After losing a game this season, their ranking was not as high, placing them in fourth place in the mid-Atlantic region, but off the list of nationally ranked teams. So, redeeming themselves and holding on to their status was celebrated when goals were scored by senior Addie Froehlich and junior Sophia Burch.
According to senior Lauren Sanford, this year was extra special for the team and they were so dedicated to bringing home a fifth straight win, they started practicing and conditioning last June.  Sanford, who will attend Bucknell University in the fall  agreed that the work was worth it and the players were more than proud of themselves.
"We were able to show our team's heart at the right time; which made a difference in the play," senior captain Elyse Unger said.
As the excellence within the entire field hockey program continues, the younger girls on the team are also eager to reach state play next season.
According to junior Joey Savino, she wants to keep the state championship winning tradition flowing. In hopes of achieving another title next year, Savino thinks keeping the mindset that it is crucial to play for the girls who came before them will team at the top of their game.
Leave a Comment
About the Contributor
Erin Bailey, Editor-in-Chief
Senior Journalism IV Student