"Rosaline" breathes new life into an old tale
One of the most famous quotes from Shakespeare's play Romeo and Juliet is "Parting is such a sweet sorrow, that I shall say good night till it be morrow." We've all seen or at least heard of the epic love story, whether it be through studying it in English class or a movie from the long list of adaptations. While it's an undeniable classic, we have to be honest, it's been overused and has gone stale in terms of being interesting. The staleness storyline, though, is corrected by the fresh comedic point of view of Rosaline. 
The newest retelling of Shakespeare's classic is given to the audience through the scorned Rosaline's (Kailyn Denver) view after she is dumped by Romeo (Kyle Allen) for her younger cousin, Juliet (Isabela Merced). Filled with sorrow after losing the man she loved, she starts devising a plan to break the pair up and reunite with him. The only thing standing in her way is her father's sad attempts at marrying her off to other suitors. Her most recent suitor Dario (Sean Teale) proves to be the most bothersome, even though he is dangerously charming. Furthermore, Dario always seems to show up when she seems to be in trouble.
When I started watching this movie, I expected to be able to predict most of what was going to happen because of the familiar story, however, I was proven wrong. The tale added new elements and events to the storyline to keep it new and exciting, while making sure to not stray too far from the source material. I thought the comedic tone fit perfectly with the outlandish personality of our protagonist, and kept me laughing for most of the movie. 
Denver was great in the lead character Rosaline. She brought her to life by giving her odd quirks, making her look animated when she spoke, while still nailing the few emotional scenes in the movie. Nurse (Minnie Driver) also did an amazing job in her role. Her joke delivery was hysterical and well-timed, and I can't think of one scene with her in it that didn't make me laugh. 
Period films are often noted for earning awards for best wardrobe and Rosaline is no exception. Simply from a character's clothing their clothes, it's easy to determine a character's personality. Juliet is dressed in bright blues and off-whites to show her innocent views of the world, as well as her youth. Her style fuels Rosaline's insecurities of being viewed as the opposite, as she is mostly seen in reds and dark greens that show her maturity, but still manage to make her seem jaded. It's not until later in the movie when Rosaline learns that she doesn't have to be viewed as perfect like her cousin, that the audience starts to see light greens and a touch of blue in her wardrobe. 
I recommend this movie to Shakespeare, period film lovers, or a romantic comedy enthusiast who are looking for something new. 
Leave a Comment
About the Contributor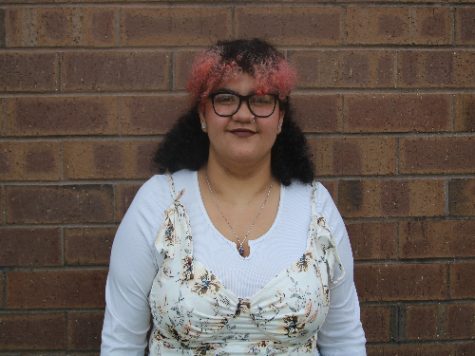 Destiny Bruce, Opinion Editor
Senior Journalism II  student.

My job is Opinion Editor which means I get to watch movies and, then give my opinions of them. I love my position because,...