Fall Fashion comes 'back to school'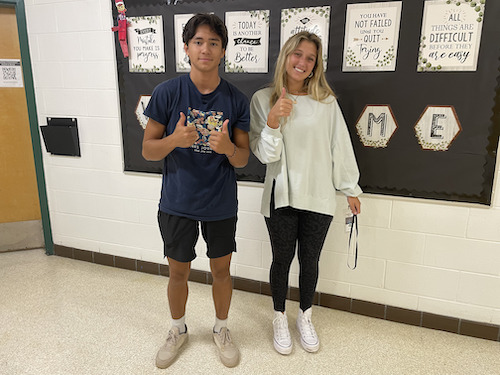 The 90s style trends are here to stay. And, as cooler weather approaches, fashion trends shift to the 'back to school' classics. Wide leg jeans and brightly patterned dresses have come back in full swing. "Puffy sleeve" tops and dresses are a more recent trend, but have quickly become a staple for many girls.
"Athleisure" is a popular choice for staying comfortable during class. Brands such as Free People and Lululemon can be seen throughout the halls. Athletic sneakers are commonly paired with leggings and sweatshirts. On Cloud and Hoka seem to be a school favorite for boys and girls.
For boys, golf style shirts or surf brand tees with khaki shorts is a common look. Shoe brands such as Sanuk and Hey Dude have remained a popular choice. The relaxed style is a great combination of the comfort of flipflops and the functionality of sneakers.
"Fashion is a great way to express yourself and your personality" senior Alli Kassir said.
Leave a Comment
About the Contributors
Amelia Keck, Editor-in-Chief
Senior Journalism III student

In school, I am the Student Council Secretary, Chair of the Community Relations Committee, and Publicity Officer for the...
Elyse Unger, Editor-in-Chief
Senior Journalism III student

I write about a variety of topics, but I most enjoy making videos and reviews for local businesses in Virginia Beach....