Art I and II students visit Chrysler Museum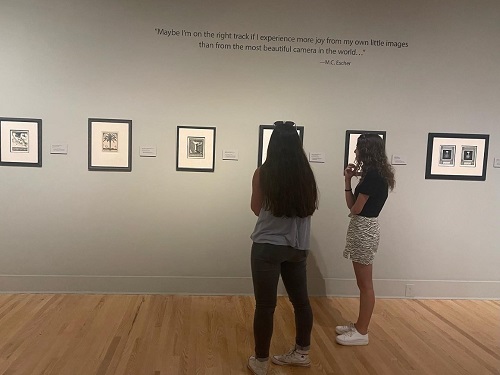 Instructional Art Specialist Amber Hester and Lead Art teacher Jessica Van Veenhuyzen treated Art I and II students to a field trip at the Chrysler Museum in Norfolk to see the M.C. Escher exhibit.
According to Chrysler.org, the exhibit traces the imagery that made Escher one of the world's most recognized artists and features the massive range of media in which he worked, including woodcuts, lithographs, etchings, and even a lithography stone.
During the field trip, students were able to participate in an interactive art session as they explored Escher's works and the entirety of the museum. They also watched a glass blowing exhibit and had the opportunity to tour​ Norfolk's NEON district.
Van Veenhuyzen included a creative writing/artistic prompt as part of the interactive lesson as well.  Rather than writing their answer, students had the opportunity to actually paint their thoughts.
"The prompt asked students what they thought an impossible world would look like." Van Veenhuyzen said. "Many of the art students think more creatively and chose to paint their thoughts and ideas instead of writing them down; they were still thinking outside of the box but were able to express themselves visually."
chryslerart2:
Leave a Comment