Ring Dance returns in person, 'in the clouds'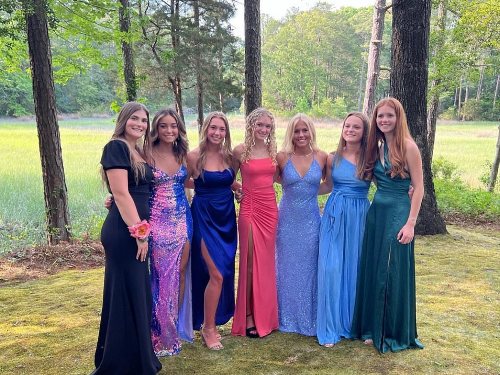 The Class of 2023 hosted their annual Ring Dance, as life and school events get back to "normal". The event was held in the gymnasium this year, but the themed 'in the clouds' decorations made the space feel like an elegant venue.
In a regular school year, which was every single year except the last two, the venue would have been somewhere a bit more 'classy' and definitely more expensive. However, as with all school and club events around the country during the two-year-long COVID pandemic fundraising for anything has been difficult, but a combined effort from the Class Executive Board and fellow juniors still made the make it happen.
"Planning Ring Dance was pretty hard this year, because of COVID we had a lack of fundraising, but we did a ton to make up for it this year to make this possible," junior class president Erin Bailey said. "We decided that we would rather keep the funds we have now and put them toward next year's events instead of planning an extravagant Ring Dance."
Fundraising events, however, have returned full force and students are out and about in the community, doing everything possible to raise money for next year's senior prom.  Juniors have become creative with their ideas, even selling classroom ceiling tiles for students to design and place in teachers' classrooms.
"I'm thankful for all the hard work everyone put into planning this dance and am excited to start planning for everything that comes with senior year, including prom," junior class sponsor Ms. Bennis said.
Leave a Comment
About the Contributor
Amelia Keck, Editor-in-Chief
Senior Journalism III student

In school, I am the Student Council Secretary, Chair of the Community Relations Committee, and Publicity Officer for the...