Falcon girls varsity soccer Head Coach Clark celebrates 300th win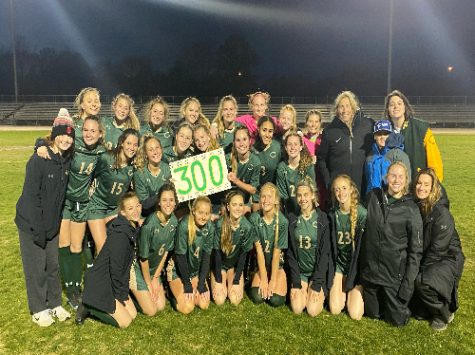 Girls varsity soccer coach Michele Clark celebrated her 300th win last week with the team's victory against the Norfolk Academy (NA) Bulldogs.
The dramatic game went into double overtime after ending in a 1-1 tie. The Falcons took the lead in the second five minutes of overtime play after a free-kick turned goal by junior center-back Amanda Frank.
The key player in the match for the Falcons was Frank. Her work to shut down NA early on pushed the Falcons to dominate much of the game.  Frank was also recognized as Channel 3 News student-athlete of the week due to her exceptional play.
The enormous effort she imposed on two free kicks led to both of the goals for the Falcons, the first of which was an assist to teammate and fellow junior Caroline Blanchard.
"I think its really important for me to continue the tradition of this team and build off of what people before me have done," Frank said.
Clark has been coaching varsity soccer for 20 years at the school and has led the team to 11 regional championships and has been a state finalists five times. This victory was just a milestone in her career as head coach. 
"There have been a lot of teams along the way to get me to this point and I could not have done it without their hard work and grit," Clark said.
The Falcons take on the Kempsville Chiefs Tuesday, April 19, after Spring Break as they look to add another win for both the team and for Coach Clark.
Leave a Comment
About the Contributor
Kate Hobbs
Sophomore Journalism II student