Shamrock Marathon turns Oceanfront green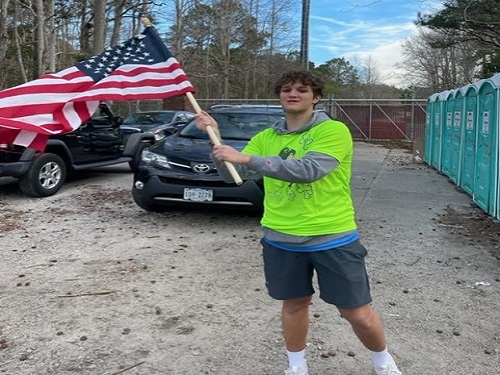 The Shamrock Marathon is a race that, prior to COVID, took place every year in March.  In fact, runners, volunteers, and much of the Oceanfront literally turns green to commemorate St. Patrick's Day and the festivities associated with the holiday.
With nearly 30,o00 participants each year, the marathon is popular in and around the city. So much so, that the race has returned this year as pandemic restrictions have been lifted and everyday life commences, even though there is a "new normal".
And, as the pandemic has depleted resources for local high school students to hold fundraisers for their graduating "Class" and [respective] clubs, the race offers these students the opportunity to act as volunteers, handing out water and T-shirts to the runners in order to raise money.  In this case, for the Class of 2023 and National Honor Society students, who combined their organizations to fundraise together.
"I hope that juniors come out to volunteer at the Shamrock this weekend," junior Erin Bailey said. " Volunteering and raising funds for the Class of 2023 will provide us the funds necessary to hold our regular activities and promote the school's first Ring Dance in three years".
The marathon is scheduled to take place Friday, March 18- Sunday, March 20, with check-in at the Virginia Beach Convention Center on 19th Street at the Oceanfront. The  26.2-mile race does not simply include the actual marathon, but also a half marathon, as well as an 8K. The event also has activities for runners and attendees to enjoy when the race is complete.
Leave a Comment
About the Contributors
Claire Moorehead, Student Life Editor
Senior Journalism III student

I help make videos and do write ups for the videos. I've been in this class for three years. I'm a dancer for the school...
Erin Bailey, Editor-in-Chief
Senior Journalism IV Student