AP Biology students visit aquarium; VBCPS dives back in to field trips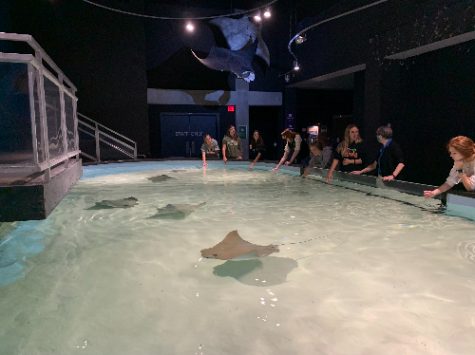 Advanced Placement (AP) Biology students and their teacher, Sabrina Shumate, ventured outside of the classroom to learn for the first time since the COVID pandemic began in March 2020. These students had the opportunity to visit the Virginia Beach Aquarium located near the Oceanfront earlier this week to observe animal behavior and water chemistry.
Thus, students are, again, able to apply what they have learned in the classroom to various venues within their community.
During the aquarium tour, AP students made observations about how animals who live in the water interact in their environment. They also moved behind the scenes, where aquarium visitors do not generally see, to learn how  water chemistry affects the aquatic animals. Both of these hands-on learning experiences are content that is relevant to what the students have learned in class and can now, finally, be applied to life outside of the classroom.
 "I wanted my students to have real life experience with the content that is found in the curriculum. We can finally go on real trips again so I figured, 'let's go'," Shumate said. 
Leave a Comment
About the Contributors
Elyse Unger, Editor-in-Chief
Senior Journalism III student

I write about a variety of topics, but I most enjoy making videos and reviews for local businesses in Virginia Beach....
Mia Michaud
Junior Journalism II student