Falcon field hockey brings home 4th consecutive state championship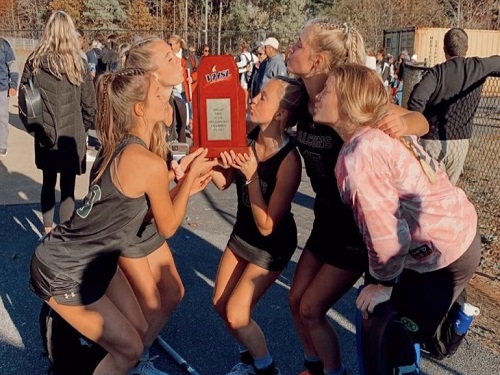 CHS Field Hockey is now officially ranked 2nd in the nation after a wildly successful season.  After ending their fall season with a 20-0 record, the Lady Falcons brought home their 4th consecutive state championship.
The girls won all of their regular season games, two of which were against long time rival  First Colonial High School (FC). Then, the team faced FC for a third time in the state final game held at Courtland High School in Spotsylvania, Virginia, last weekend. The game ended with a score of 2-0 complete with another shut out by senior goalie Abby Spear.  Senior Zella Bailey led the team in goals scored.
According to Assistant Coach David Hahn, it was a group effort and the girls' gave 110 percent every day. All of the girls contributed by bringing a positive mindset to the field whether it was a simple practice or a tough game. Along with Head Coach Taylor Rountree, Assistant Coach and alumnus Alex Brewer, former head coaches Nancy Fowlkes and Julie Swain, as well as the parents and fans continuous support, the girls were victorious once again.
The team was led by seniors Emmerson Schwartz, Spear, Bailey, Quin Braithwaite, and Ava Ostrowski. Rountree and Hahn recognized the girls for their leadership and dedication at their final home game of the season, before moving on to post season play. Bailey, Spear, and Schwartz recently signed to play college field hockey at Ohio State, Duke, and William and Mary respectively.
"It was really one of the best moments of my life. To be able to finish with one final win, especially against our rivals was so extremely special. I loved my time playing for Cox and can't wait to watch what the future brings for our team," captain Abby Spear said.
The Falcon field hockey team now holds 23 state titles, more than any other team in the state.
Leave a Comment
About the Contributor
Amelia Keck, Editor-in-Chief
Senior Journalism III student

In school, I am the Student Council Secretary, Chair of the Community Relations Committee, and Publicity Officer for the...