Chick's Oyster Bar brings out locals, tourists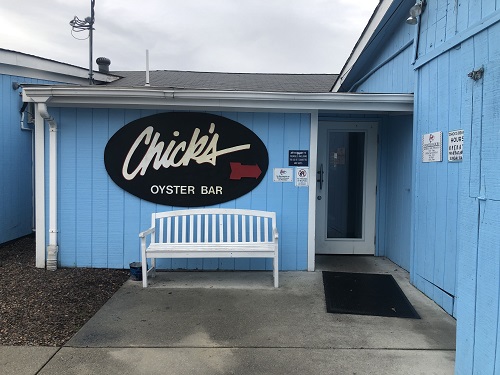 Chick's Oyster Bar is a classic Virginia Beach restaurant located near the Chesapeake Bay, or as locals refer to it, "Chix Beach".
As most COVID restrictions have been lifted, Chick's is open from 11AM to 11PM daily; anyone is welcome to come relax and enjoy their breakfast, lunch or dinner. The restaurant itself is family-friendly, a local favorite and sits directly on the Chesapeake Bay. 
The view is spectacular and over the years, the restaurant has become a family favorite and/or enjoy some quality food with family and friends. It has a welcoming atmosphere and people of all ages are welcome.
Chick's is considered a seafood restaurant, but has the menu provides many different options.
But, for visitors and locals alike, anyone looking for a nice, tasty place to try fresh seafood, this is definitely the spot. Chick's has everything from appetizers, to entrees, and desserts. And, each day, they update their famous chalkboard that includes the "fresh catch" of the day that generally varies throughout the week and is dependent on the season. The price range is reasonable, generally from $10-$20 but the food is worth it.
During my visit at Chick's Oyster Bar, I tried the chicken sandwich which came with barbecue sauce, hickory bacon and pepper jack cheese. It was such a good choice, extremely flavorful and I would definitely recommend it to anyone who goes there. The other food ordered also smelled amazing, it mingled with the salty breeze off of the Bay and had everyone's mouth watering. I would definitely recommend getting one of their sandwiches or burgers with fries and no one will be disappointed, I can guarantee.
Chick's service was quick and reliable. The waiters and waitresses were on top of our requests and made sure we were taken care of. The employees were all polite and friendly throughout our visit. The wait time was average for a restaurant of its size, about 15-20 minutes, if all the tables were full. Otherwise customers are seated right away. The restaurant was packed with customers and we still felt like the staff catered to our needs.
Chick's atmosphere was something unlike anything I have experienced before. All of the friendly locals, and people in general made it a good visit. It is a kid friendly place, as well as a nice place to go with some friends to have a nice night out. The thing that brought this whole experience together was the view. The restaurant is right on the water it's possible to sit, literally, about ten feet from the Bay; it is such a cool experience.
Customers also come dock their boats, give their order and just eat on the boat. There is also indoor seating if it isn't nice weather or a customer just wanted to sit inside. 
If there is anyone trying to find a family-friendly place to eat for any time of the day, I suggest Chick's Oyster Bar. The time I had there was amazing and certainly made me want to go back soon and try something new. There is just about something for everyone and has a great view and atmosphere, it doesn't get any better than that. Support a local business and give Chick's a try and you won't regret it.
Leave a Comment
About the Contributor
Carlee Sherrill, Student Life/News Editor
Junior Journalism II student