Beach Buddies spread joy to the teachers for their hard work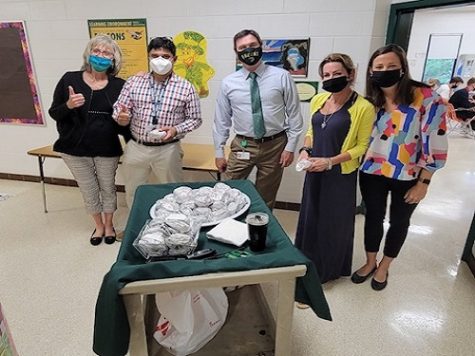 Special Education teachers Bailee Adams and Ross Cardwell have been on a new mission with their students. 
Every Thursday, the special education students, otherwise known as the 'Beach Buddies', prepare and then deliver homemade treats to each teacher's classroom simply to let them know how grateful they are for their constant support, not only through the pandemic, but overall. 
Thus each Thursday morning, these proud students walk the halls, knock on doors, and offer teachers a drink and a snack. The students, themselves, have prepared everything, from items such as cookies to a baked potato bar; they are seemingly proud to be a part of such an undertaking.  These students are especially glad to bring some joy to the teachers during this crazy year. 
"Teachers are loving it and it makes their day a little bit brighter," Adams said. 
The students have even gone so far, recently, to make signs with a countdown of how many days left until the last day of school.  Students make the signs, and carry them around each Thursday, to specifically thank the teachers for all of their hard work.
Teachers are grateful to the students for bringing them some joy during the long weeks of hybrid teaching.  Math teacher Dr. Fratrik is one such teacher.
According to Fratrik, she used to dislike Thursdays, but now she looks forward to them. They help her to get through the week and give her an extra boost in her day.
Leave a Comment
About the Contributor
Morgan Lynch
Junior Journalism III student