Falcon art draws their way to success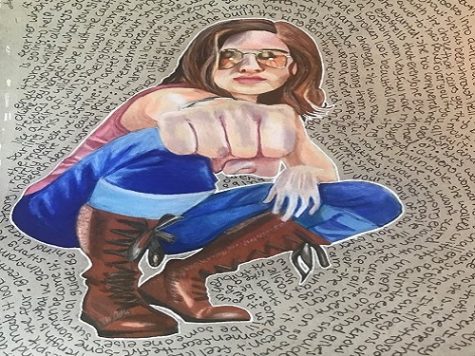 Recently sophomore Falcon art students Lucy Klinkhammer, Callan Barboza, and junior Ava Busby placed in the Secondary City Wide Art Show. Placings for the Secondary Citywide Art Show will be announced at the Award Winners Reception on June 2 at 6:30 pm.
In addition to these amazing art students' work, seniors Natalia Dell'aere, Maria Ntaflou, and junior Colin Bridges placed in the Audobon Student Art Show.
The Audobon Student Art Show was recently installed at Pembroke Mall and was opened to the public from Tuesday, May 4 to Wednesday, June 2.
The Virginia Beach City Public School system hosts both shows each year to allow its students to enter as a way to display their skills and experience contest opportunities. 
"I am incredibly proud of the resilience and persistence of the students to create. You would think teaching virtual art would be hard to teach and get inspired by, but they have put out some of the most creative pieces I have seen this year and I couldn't be more proud of them," Art teacher Jessica Veenhuyzen said.
Mrs. Veenhuyzen encourages her students to participate in many different art shows throughout the year in addition to the Secondary Citywide and Audobon.
"I'm very surprised by how my piece turned out because I was entirely freestyling and layering colors and that's how it came out. It was a great experience to be able to compete in the art show and I would absolutely recommend competing to others because it is worth it," senior art student Natalia Dell'aere said.
Leave a Comment
About the Contributor
Michelle Humphrey, Sports/ News Editor
Senior Journalism II student.

I play volleyball for CHS.

I have been a vegetarian for four years.

I love sunsets, especially the ones that are...